29/01/2021
Find your resort lifestyle at Rusutsu Resort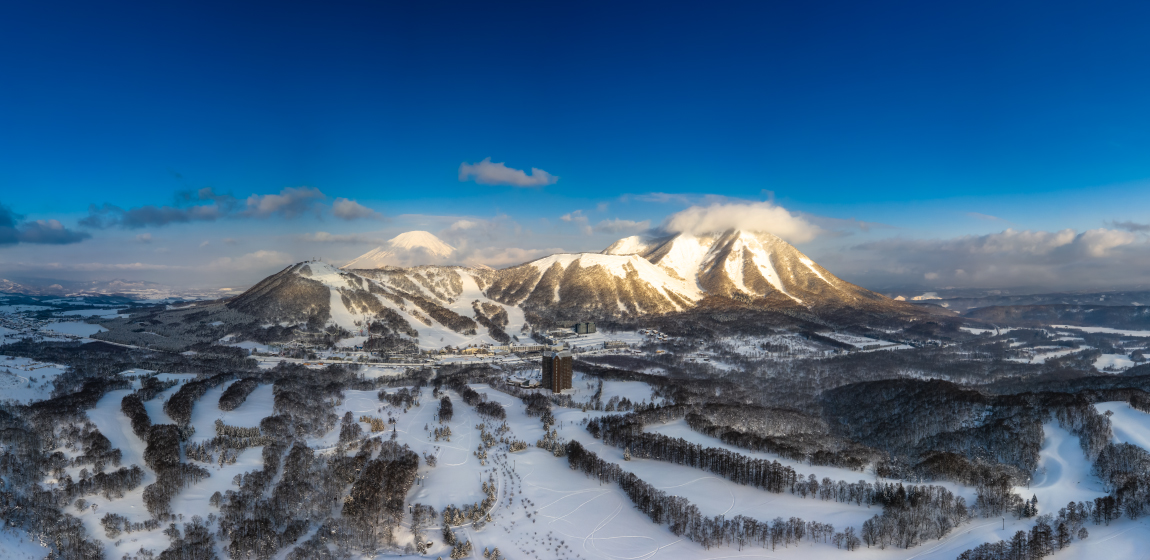 Rusutsu Resort has so many accommodation styles and types it might be hard for you to choose the right one! Let us help you today by introducing some of the hotels, room types, and activities that are available for you here at Rusutsu!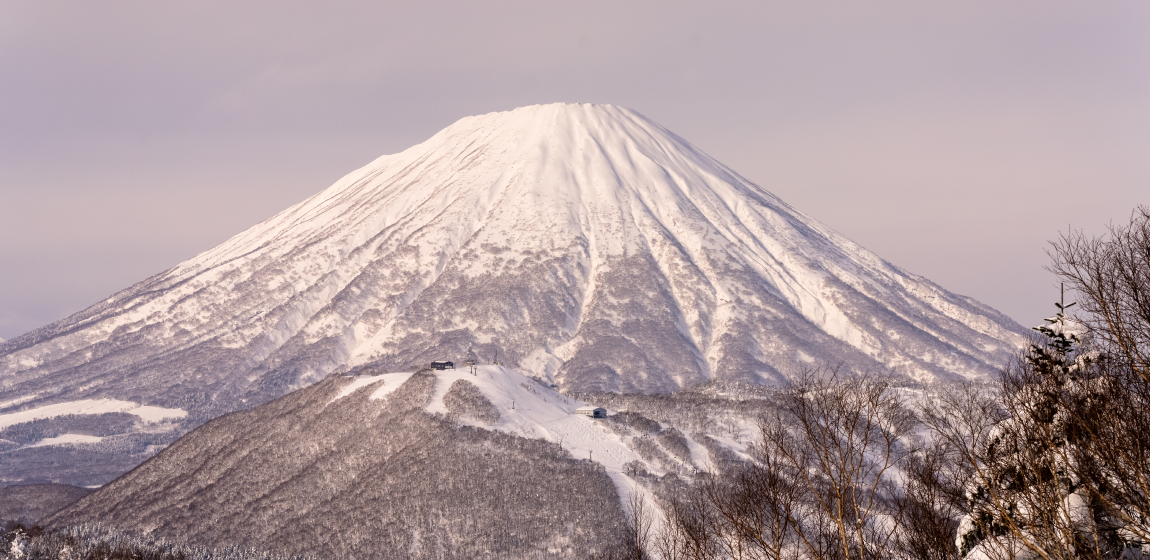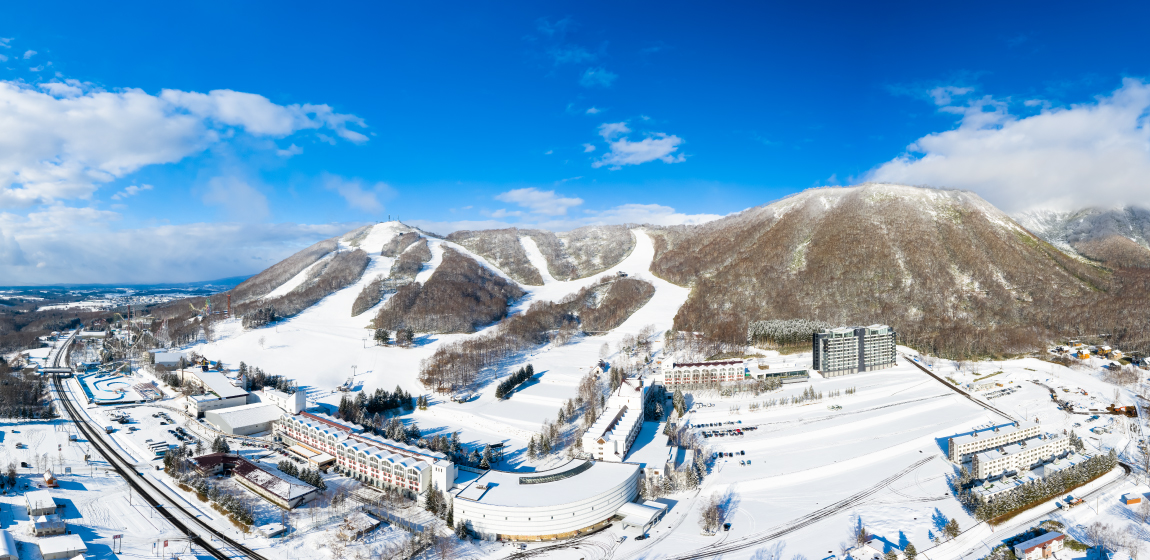 The Vale Rusutsu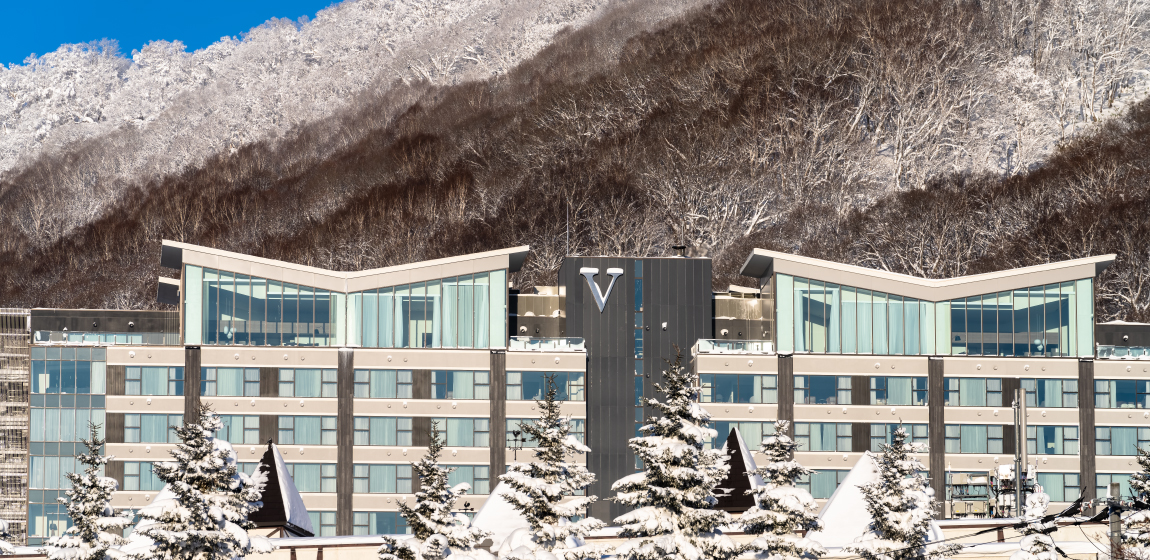 On December 18th, 2020 Rusutsu Resort opened its newest hotel 'The Vale Rusutsu'. This condominium-style hotel with convenient ski-in/ski-out access, and is directly connected to the main Rusutsu Hotel, makes it quick and easy to reach the new hot spring and resort facilities!
Guest rooms offer stunning views over the ski resort, golf courses, and surrounding peaks of the Shikotsu-Toya National Park. The Vale Rusutsu offers ten unique types of apartments, which are designed with long-term stays in mind, having spacious living areas and fully equipped kitchenettes. In the winter season, ski-in/ski-out access offers convenience to the slopes!  The  Vale Rusutsu has a spacious locker room with an entrance leading straight onto the mountain. Guests can enjoy direct access to the West Mt. family course making this hotel ideally located for skiers and snowboarders.
There are ten unique types of apartments with a capacity of 2 people up to 8 people! You are sure to find the right room for your family or group.  Planning a longer vacation style or a "Work-cation"? Did you know that the 'Colorful' shop located in the North Wing 1st floor offers a wide range of frozen goods, which are perfect for long-term guests? Stock up here and cook up delicious meals in your apartment for a truly relaxing experience.
In addition, the airport shuttle bus, known as 'Big Runs' stops right outside the hotel entrance! It is easy to arrive and leave, but you may never want to leave after experiencing The Vale Rusutsu!
The Westin Rusutsu Resort
The first Westin located in Hokkaido, this resort offers unique services to help make your stay a luxurious, relaxing one. The Westin is easy to access: it takes about 5 minutes to reach Rusutsu Resort Hotel & Convention, the Amusement Park, and West Mt. by monorail.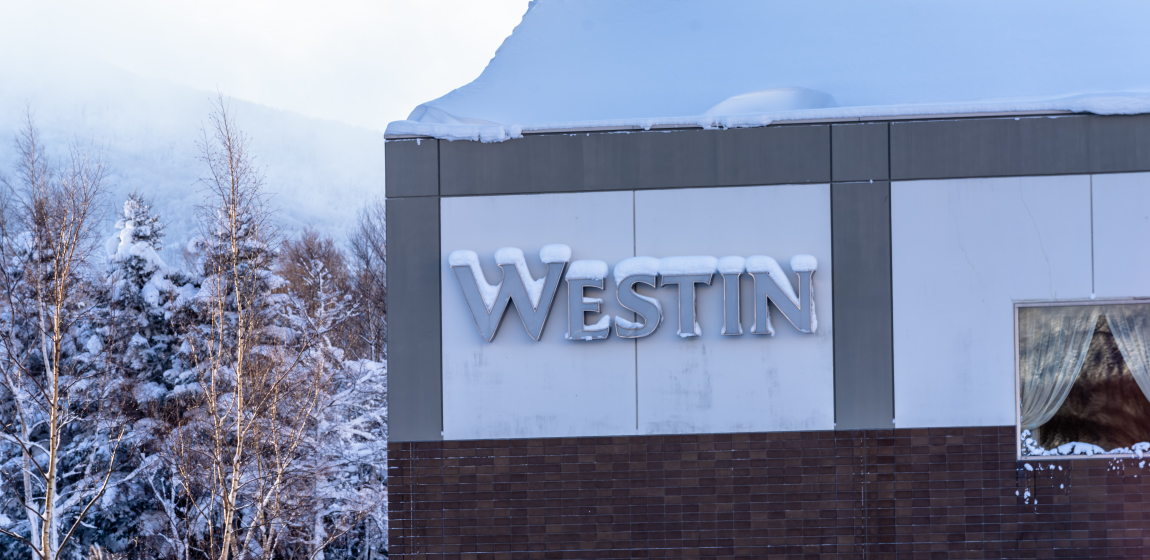 The Westin Rusutsu Resort is all about Well Being and there are 6 pillars that will restore your energy! Sleep Well, Eat Well, Play Well, Feel Well, Move Well and Work Well.   The Westin Rusutsu Resort is the ski-in/out resort that won the award for Japan's Best Ski Hotel 2019 at the World Ski Awards. This is the third consecutive year and the fourth time in which The Westin Rusutsu Resort has clinched this prestigious award.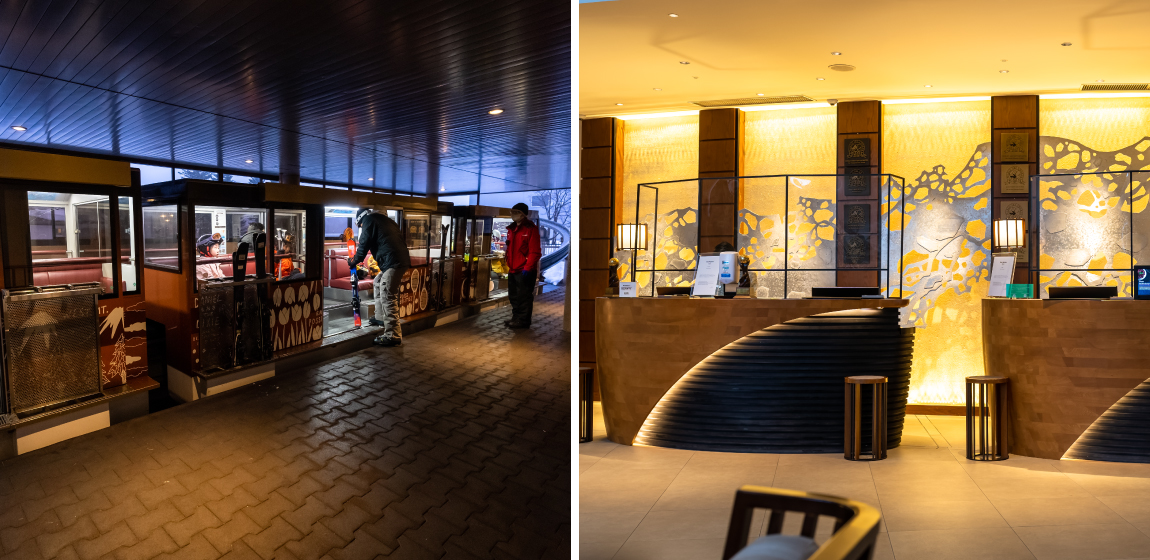 Located between the West Mountain and the East Mountain, the Westin towers over the landscape. Amazing views from every room, so please remember to keep your camera handy! In winter the golf course which surrounds the hotel is covered in a blanket of white. You can take the smooth monorail to West Mountain or the short lift directly to the East Mt. base area.
The Westin Rusutsu Resort has a strong focus on eating well and you will surely enjoy the variety of food choices. The delicious lunch menu is a favorite with many non-staying guests who visit for a hearty meal after skiing! Just look at that selection of desserts at the dinner buffet! You will not be able to resist.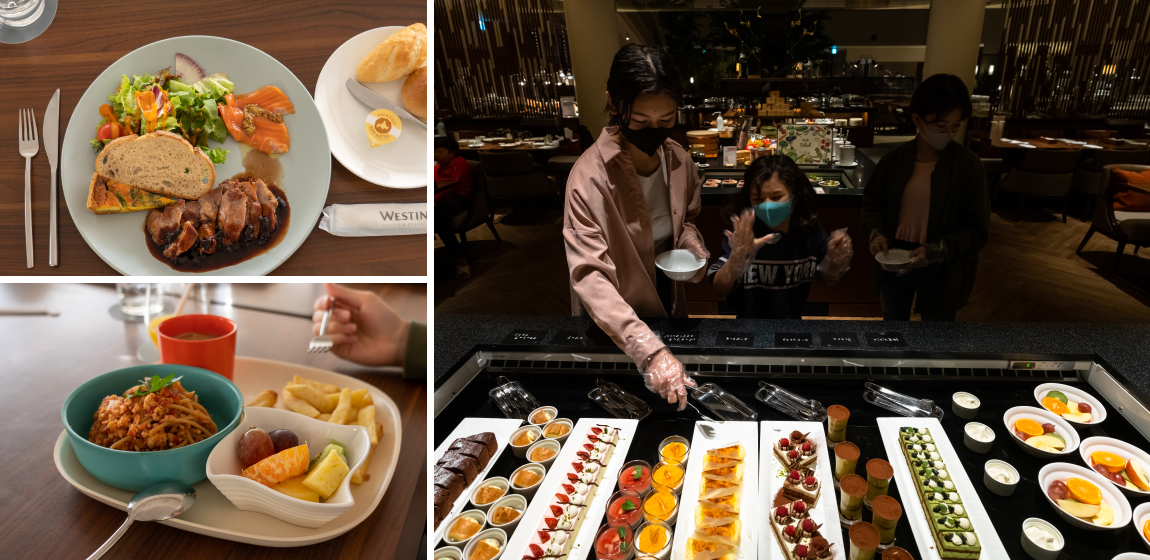 Rusutsu Resort Hotel & Convention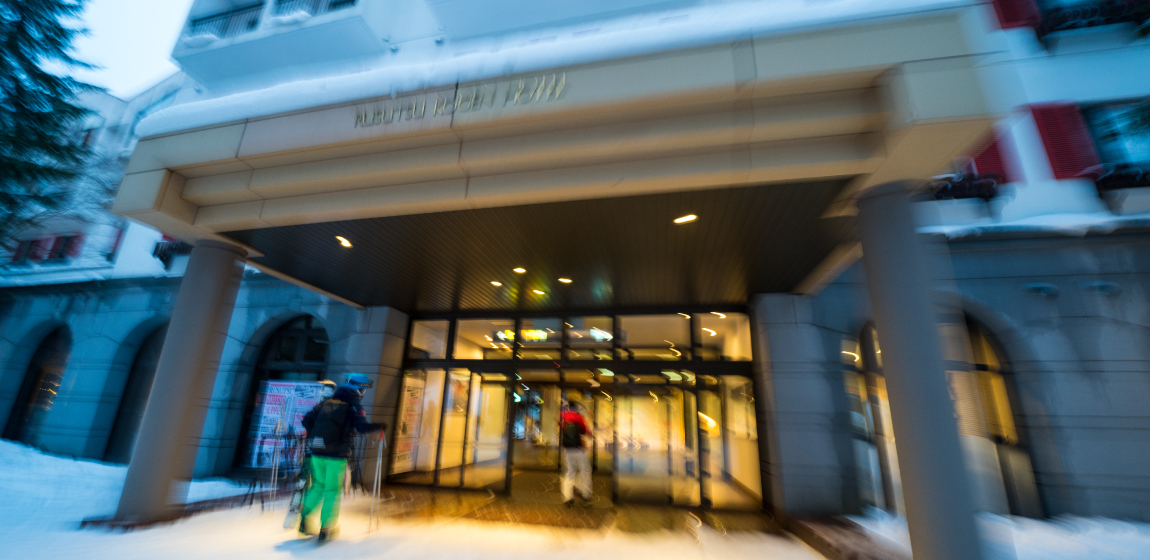 Do you like to be right in the middle of the action? Need to be close to everything? Ski-in/out, shopping, dining, convention center, and many activities? Then why not stay at the Rusutsu Resort Hotel & Convention.
Stretching the length of the base area on the West Mountainside you will find the Salomon Rental center at the far southern end and the brand new Onsen on the northern end. Shopping, dining, and many activities can be found throughout the Resort Hotel area.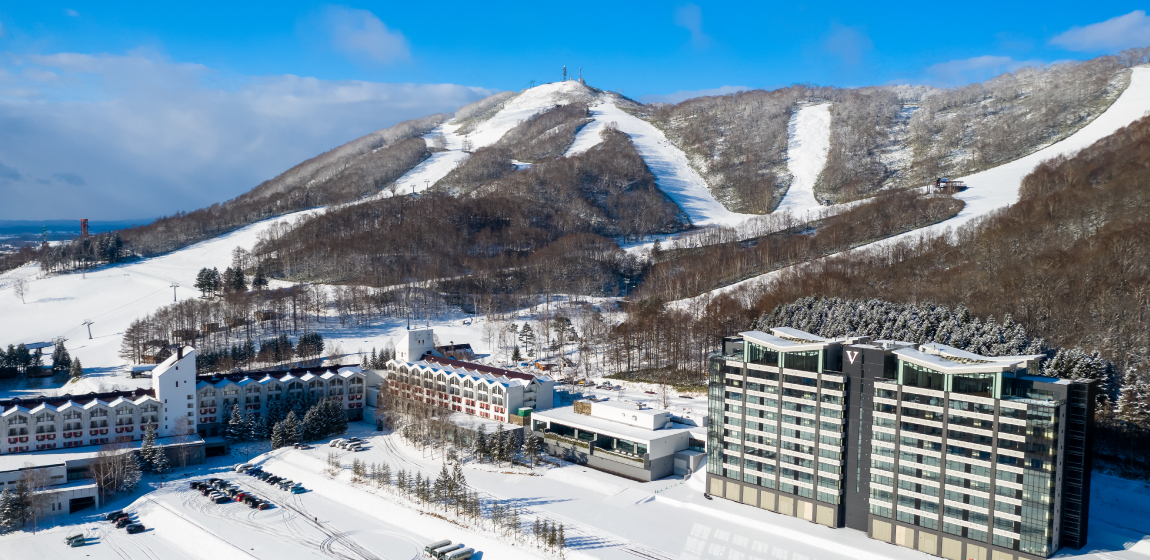 Rusutsu Resort has so many ski areas that you are probably starting to get a sense of the magnitude of this multi-faceted resort. Have another look at our trail map to grasp the bigger picture!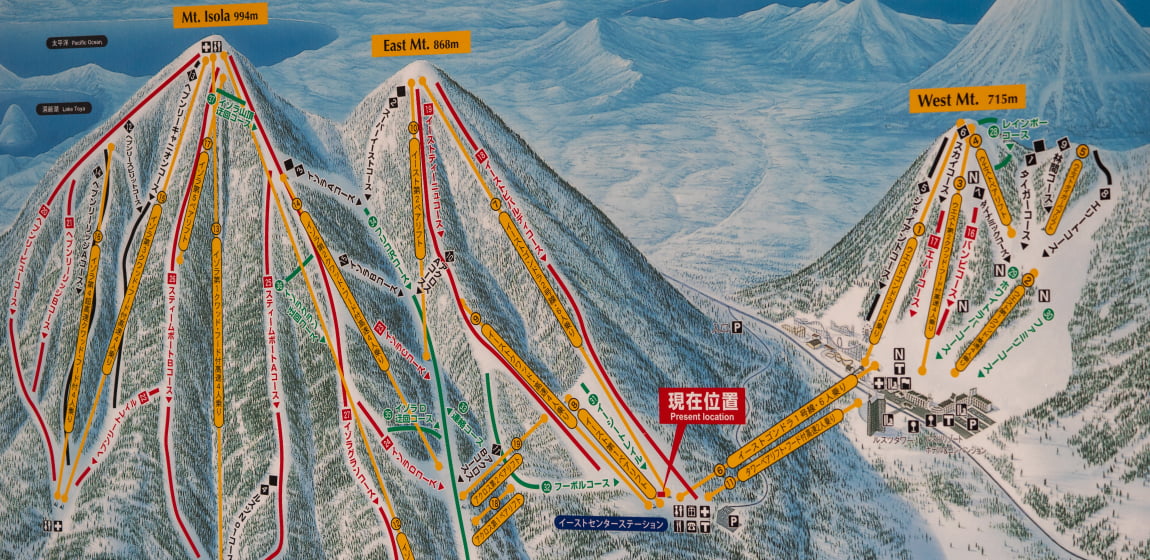 Step outside the Rusutsu Resort Hotel and Convention for ski-in/out access to the lifts, or take the gondola across the road to East Mountain. Shopping arcade and indoor merry-go-round and fun events such as the New Years' and Christmas fireworks display! There is a lot to see and do each and every day!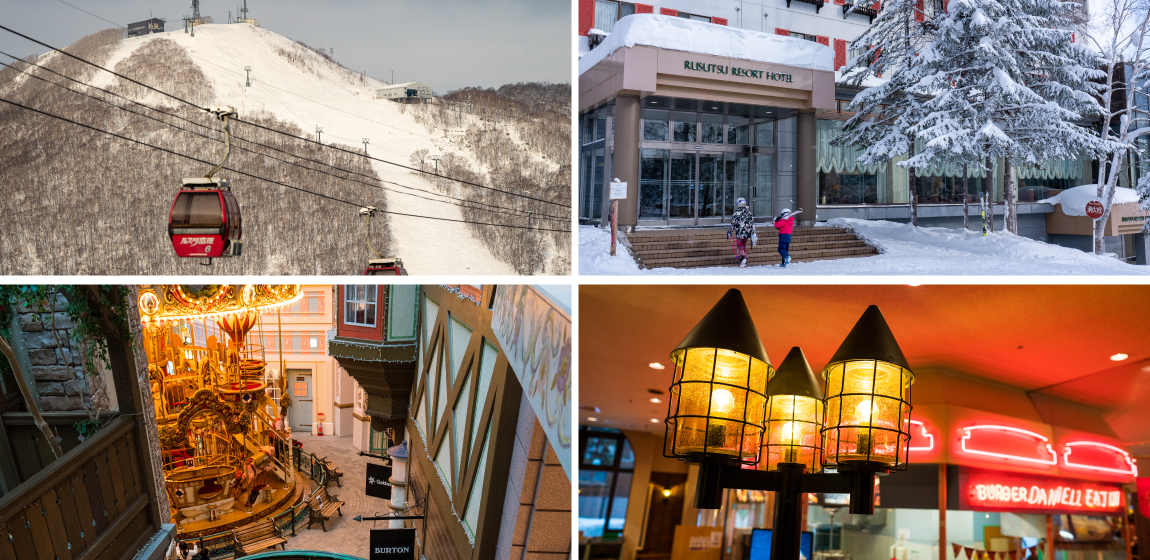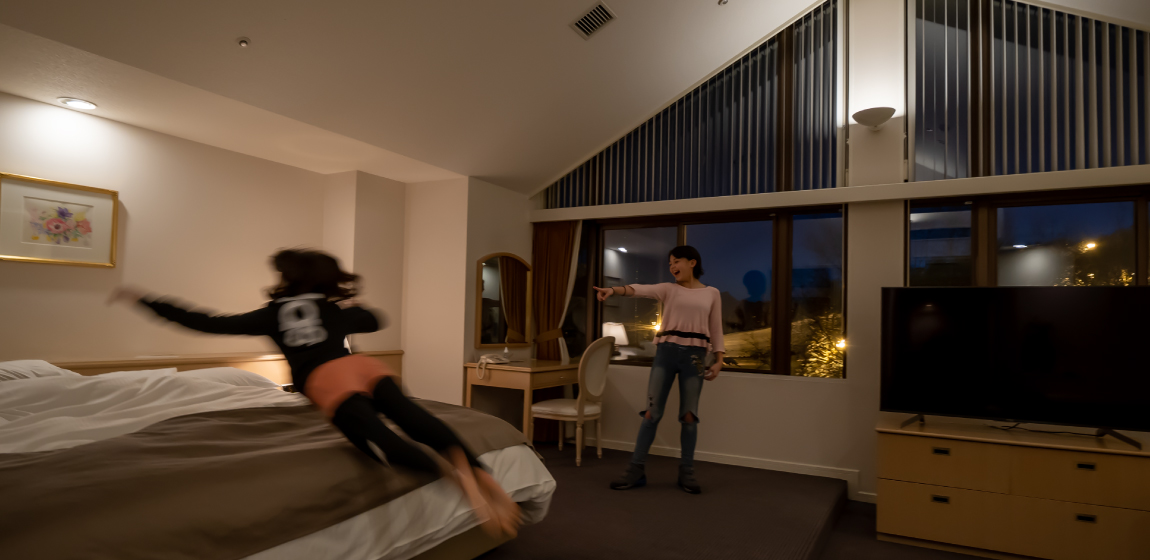 Rusutsu Resort Hotel and Convention feature over 9 different room types to suit your group or family-style, from mountain view Junior suites to twin and triple rooms. There are Japanese style rooms with tatami and even cottage style log cabins.
The West Mountain is by far one of the most family-friendly snow areas in Hokkaido. Slopes designed for every level, a large rental center, easy and fast lift service and you might even be able to spot some sheep as you ski down the course. Why not stop and feed a carrot to the hungry pony?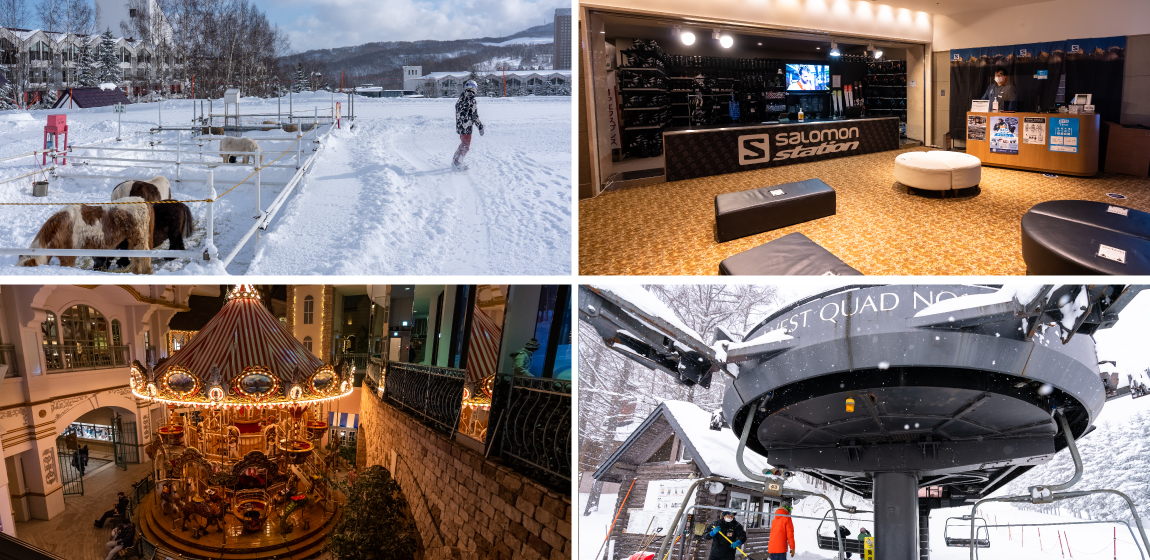 Log House and Cottage
Log cabin more your style? Shown here is one of our largest cabins, nestled amongst Hokkaido fir trees, just outside the Resort Entrance.
Lots of rustic charm and a large woodstove will welcome you into the living room area of this classic log cabin! You will be transported back to a simpler time, but don't worry all the great convenience of the resort is just a few steps away!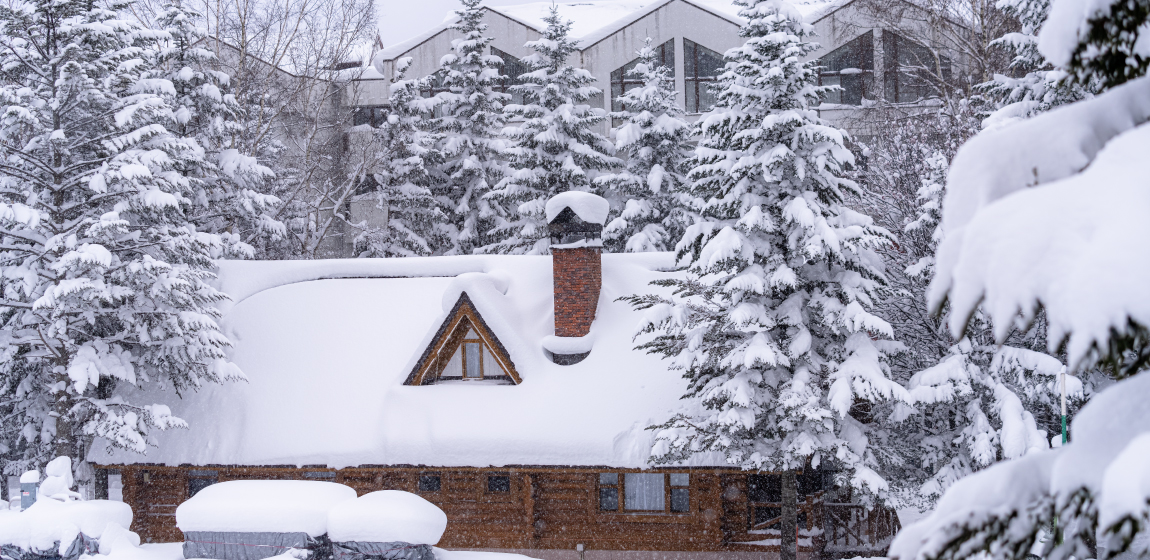 The larger Rusutsu log house can accommodate up to 24 people! There is something very special about relaxing in front of an open fireplace with your family and friends while reminiscing on the day's adventures on the mountain. The flickering flames and spicy smell of wood smoke from the chimney seem to slow down the sense of time and provide you with a chance to truly unwind and enjoy!
Rusutsu Resort Hotel & Convention / Log House and Cottage
Rooms, shopping, and dining are all equally important when choosing a resort, but don't forget why we all want to visit Hokkaido's number 1 resort! The powder snow! Rusutsu is famous for the quality and consistency of its snowfall! Thanks to its location on a high plateau and many deep valleys on East Mountain and Isola 2000, Rusutsu catches the snowfall regardless of where the storms come from.   The beautiful Lake Toya also provides ample moisture to create that amazing snow that sticks to everything and forms unique snow monsters and huge pillows!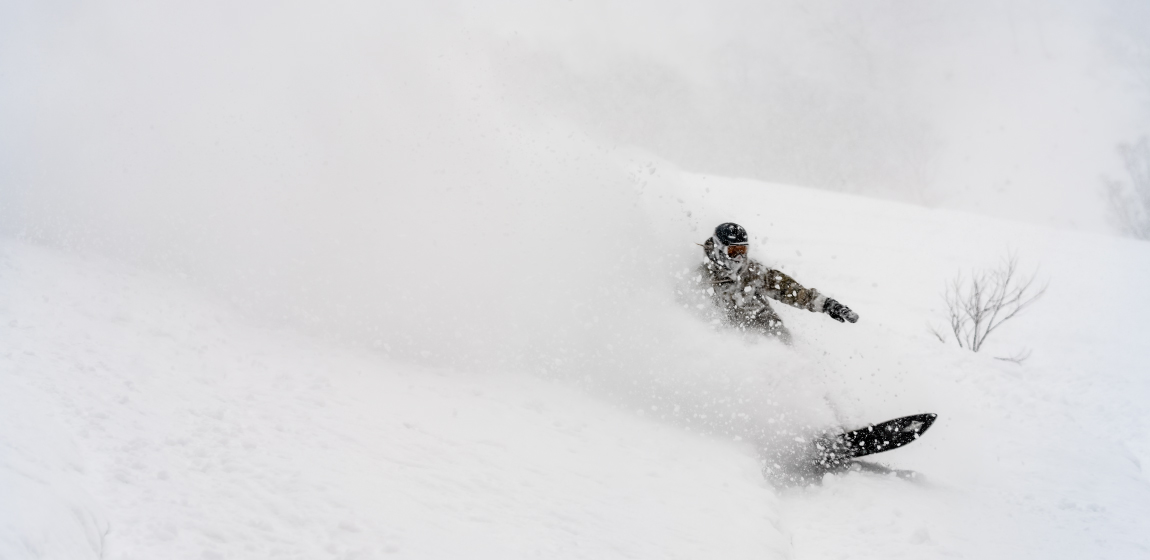 Looking for even more to do?
How about night skiing or a dip in the pool and water slide? Don't forget to check out the projection mapping show that can be enjoyed from both inside and outside. Once each evening starting from 8:30 pm don't miss the show known as "Kamoi Wonder Lights!"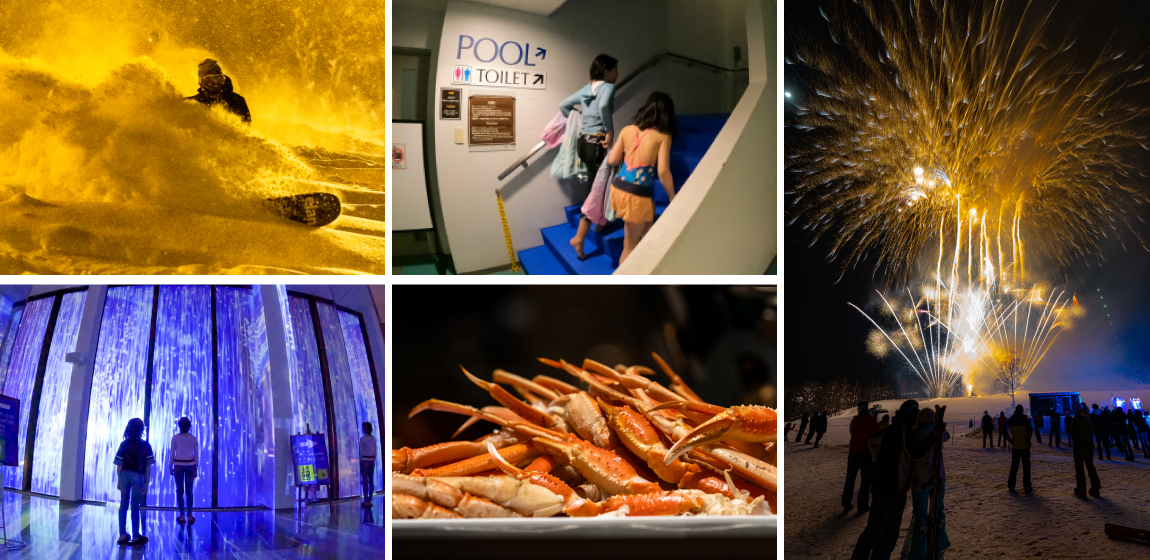 Rusutsu Resort is truly a snow-lovers paradise with something for everyone who visits! With so many types of accommodation, it can be hard to decide which is right for you and your group! Take your time,
there is no rush, enjoy exploring the official website filled with information about the resort and hotels. You are sure to find a room that fits your needs.  If it is your first time visiting Rusutsu, we are sure you will have a great experience, regardless of your choice, and we know you will be back again soon!
If you are experienced and repeat customer, why not try something new like the recently opened The Vale Rusutsu? Or maybe you are looking for a long stay and work-cation perfect spot. We have something for you guaranteed. If you can not find the specific information you need on the website, please feel free to call our information line and ask one of our friendly staff for more information!