30/06/2020
Rusutsu Resort Amusement Park opens July 23rd! The perfect destination for your next family trip.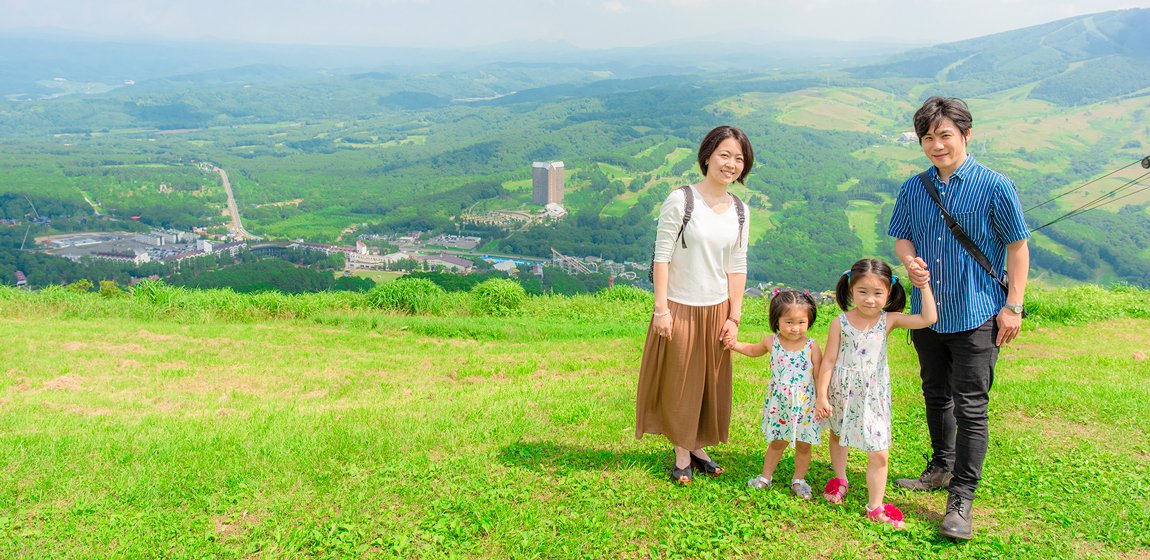 The amusement park will finally open on July 23rd as guests can experience a fun summer schedule including rides, attractions, events and even a complimentary helicopter ride. Its time to start planning your fun family vacation to Rusutsu Resort.
In Response to COVID-19
In order to prevent the spread of COVID-19 and minimize the risk to guests and staff, Rusutsu Resort has constructed a number of safety protocols and precautions. All staff are required to wear facemasks and hand sanitizer is readily available throughout the resort as a precautionary measure. In the amusement park, all surfaces which are frequently touched will be thoroughly disinfected on a regular basis. We ask all guests to wear a mask, comply with temperature measurements and maintain social distancing at all times.
For more information on COVID-19 precautions.
Purchase 1 simple ticket to enjoy unlimited rides all day at the amusement park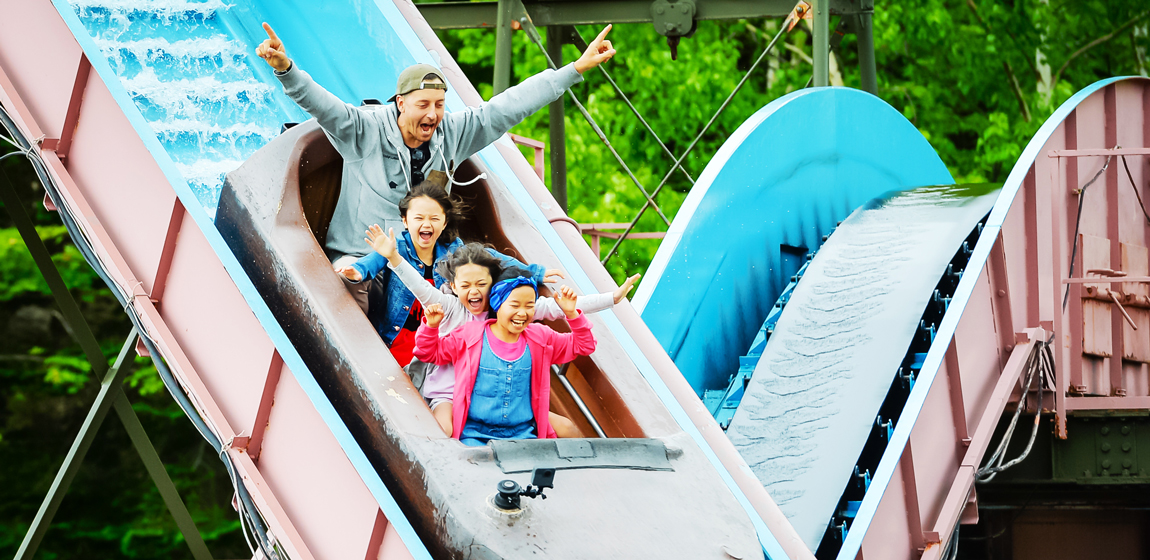 At the Rusutsu Resort amusement park, guests can enjoy an unlimited number of rides of roller coasters and water rides on one convenient ticket.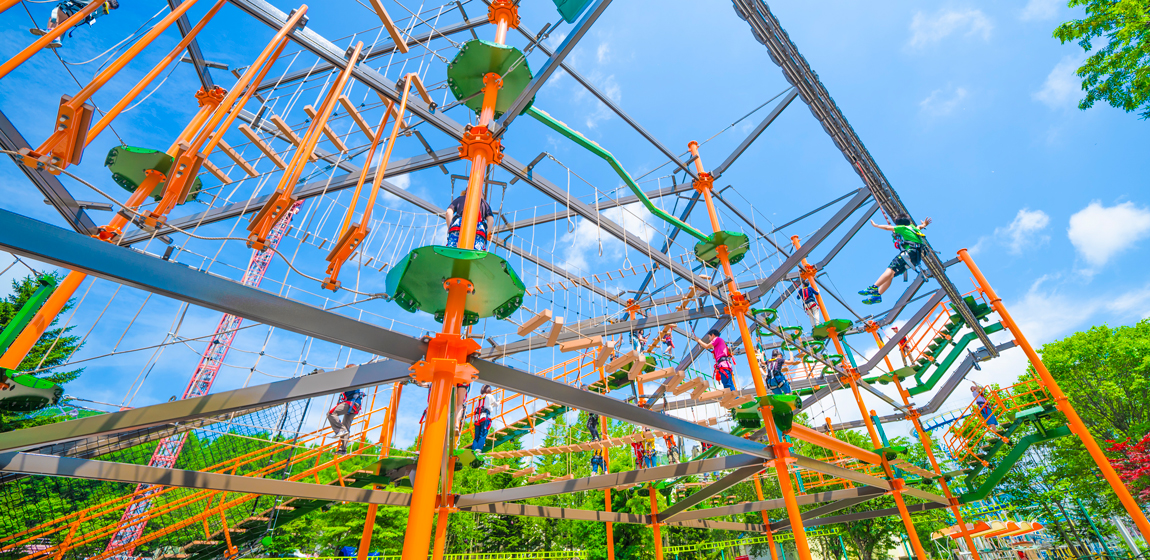 The "Sky Trail", is a large high-wire obstacle style course, which is popular in the United States, this exciting attraction features tightropes and thrilling zip lines.
The amusement park has a wide variety of attractions, suitable for all ages. Perfect for both younger families and thrill-seekers. For kids, we recommend Mini Viking" perfect for children under 6. For kids aged 7+, the " Flying Elephant" is sure to be a big hit.
Graffiti Ground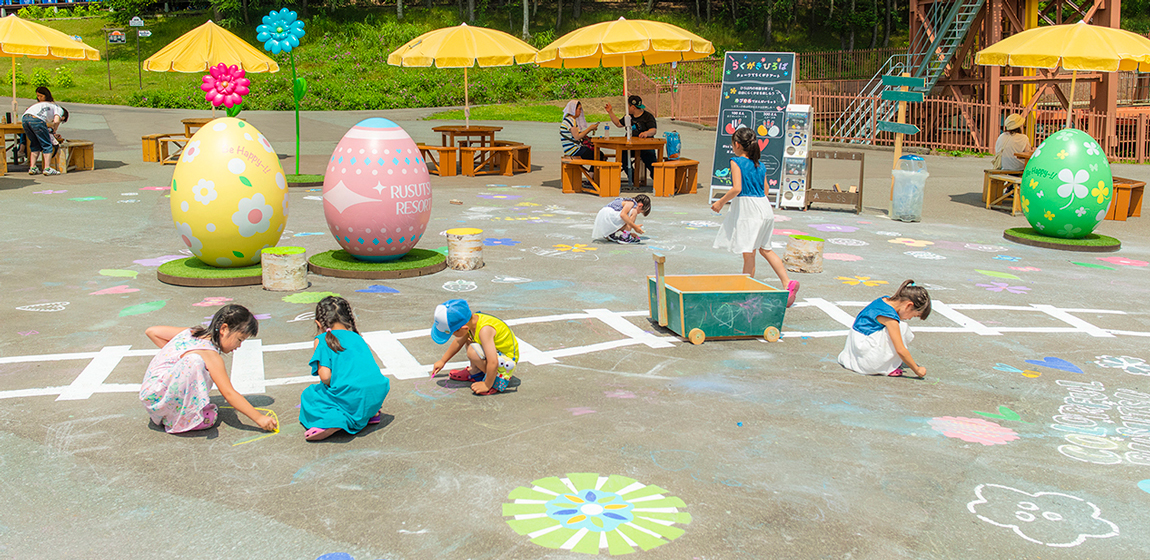 Located in the amusement park the " Graffiti Ground" is an area where guests are encouraged to draw on the floor to create their own fun and distinct artwork.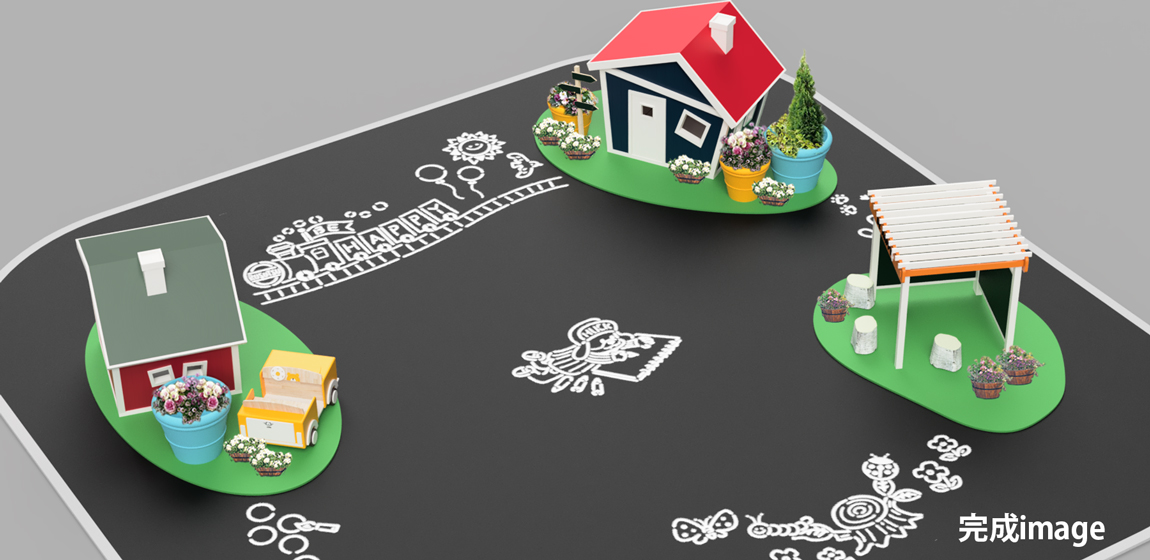 This is the conceptual drawing of Graffiti Ground. The Graffiti Ground features illustrations of a train, tree stump, and more. Guests are invited to add their drawings! Furthermore, there are also 3D shapes including houses and cars available to graffiti. Children may find drawing on these interesting 3D shapes stimulating and fascinating helping their development.
While kids are playing, Parents can enjoy a relaxing meal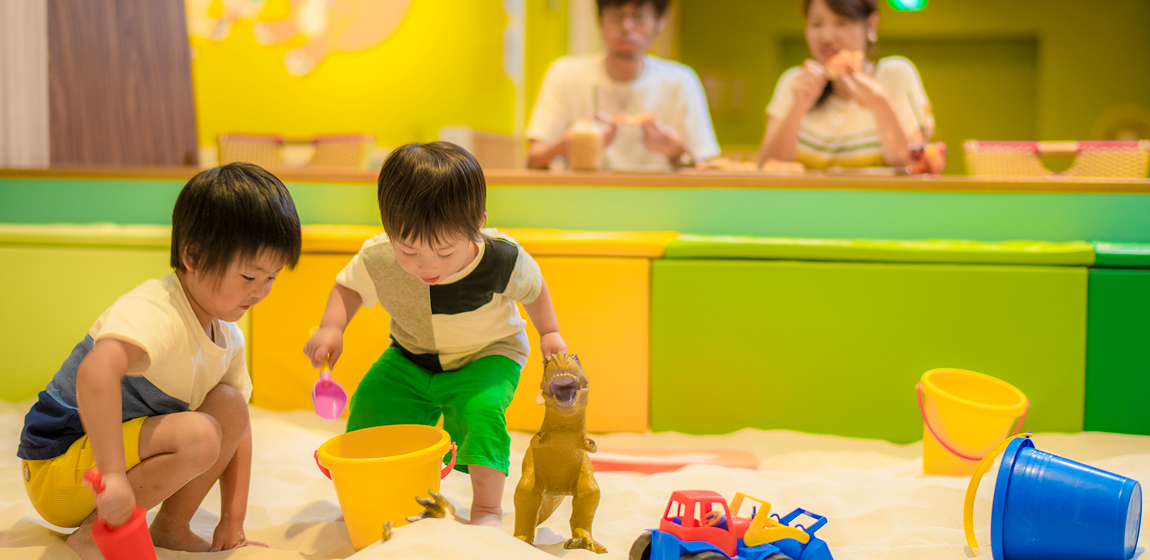 Conveniently located within the amusement park "Ruth & Moose Forrest" is a large café and indoor play area. This cafe features a large sandbox with white natural sand from Australia. Baby changing facilities are available, with special parent & child toilets for added comfort. Hot water is also freely available for milk. Parents can relax and watch their children playing while enjoying a coffee, pizza or pancake in the café. The perfect place for the whole family.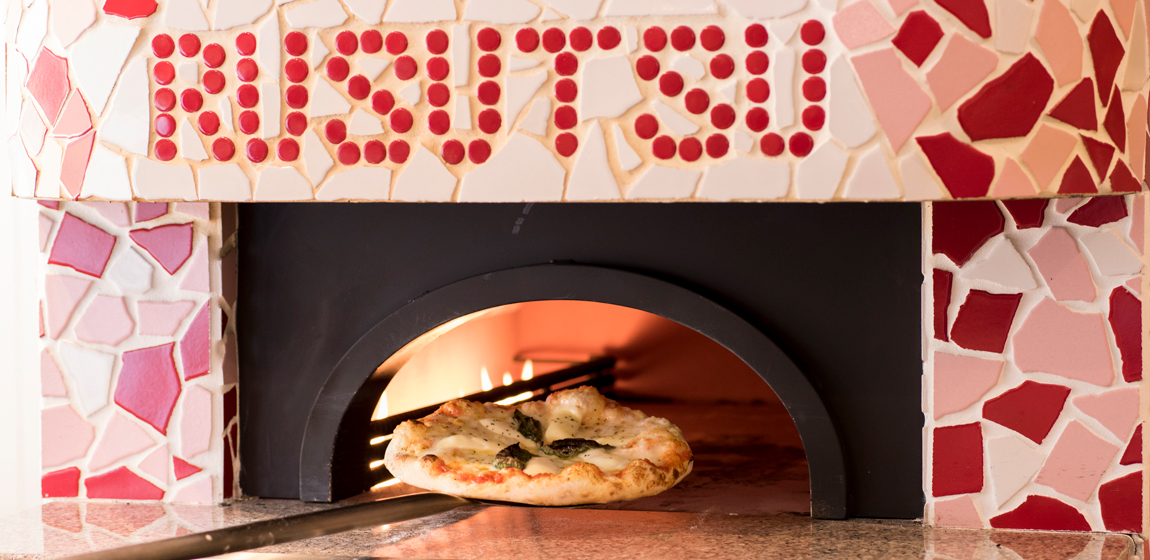 Enjoy freshly baked pizza from the pizza oven
Say hello to the Rusutsu sheep
At Rusutsu resort children can enjoy nature in a fun, safe natural environment. Below we will recommend other great attractions and activities available at Rusutsu Resort.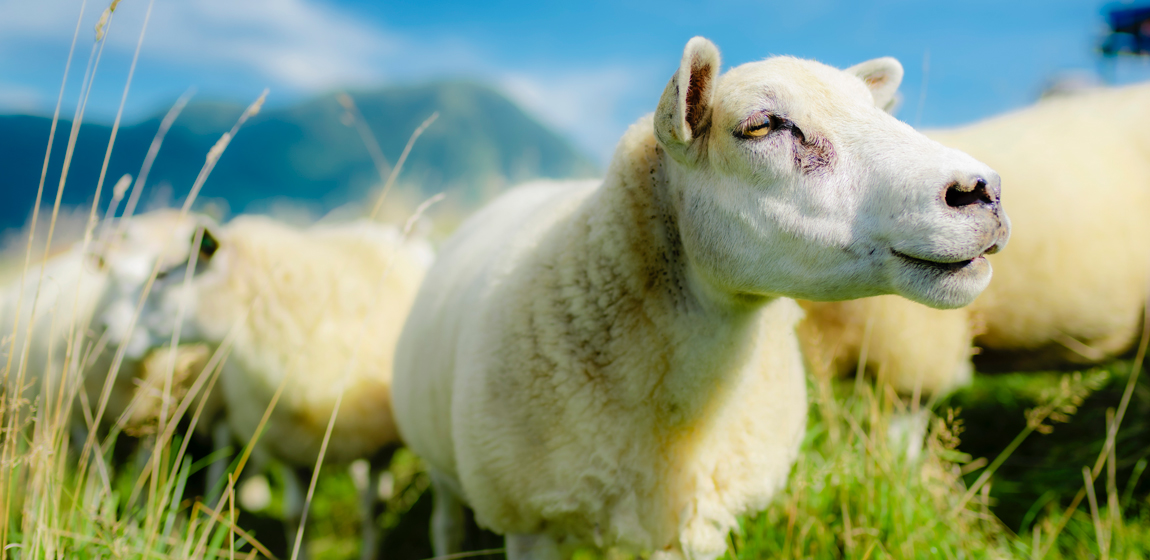 The new Rusutsu "Sheep Ground "opens July 23rd. conveniently located next to the North & South Wing hotel. This area is the perfect place to see our friendly sheep. The Sheep Ground also features a kitchen car offering a selection of delicious takeout style food including hot-dogs, and soft-serve ice cream. Also starting from September, we will launch a new special sheepdog show so now guests can freely watch the dogs in training. Watch as Australian sheepdog skilfully heard the sheep.
Power spot with spectacular views of Lake Toya & Mt. Yotei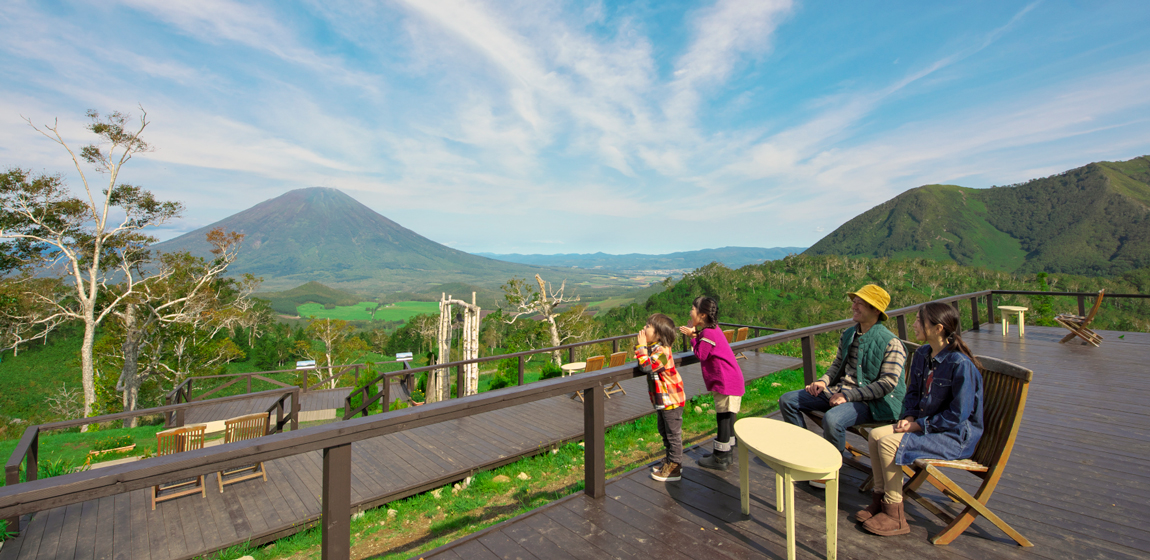 When the weather is clear, the Yotei Panorama Terrace, one of the best viewpoints in Hokkaido, is a great place for children and adults. Some people believe this area is a power spot! The amusement park ticket allows guests to ride the West Mt. gondola to this spectacular viewpoint.
Make Special summer vacation memories
Why not experience a fun outdoor or indoor activity for a memorable Hokkaido visit?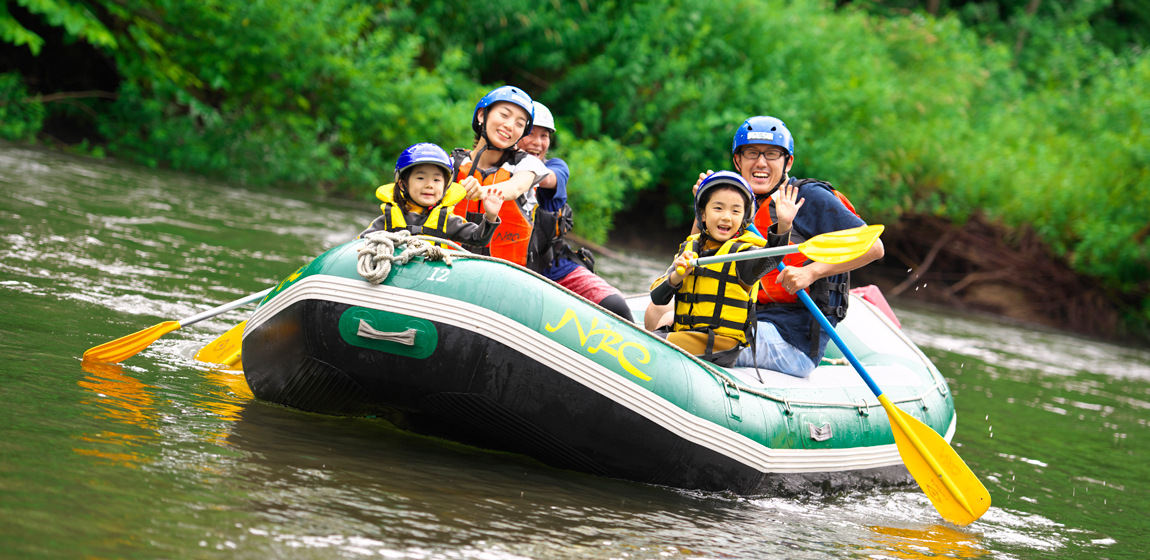 Kids rafting is our recommended option for families. Children (3 years and above) when accompanied by a parent or guardian can enjoy rafting in an inflatable rubber boat. This is a fun an exhilarating experience and will create lifelong memories.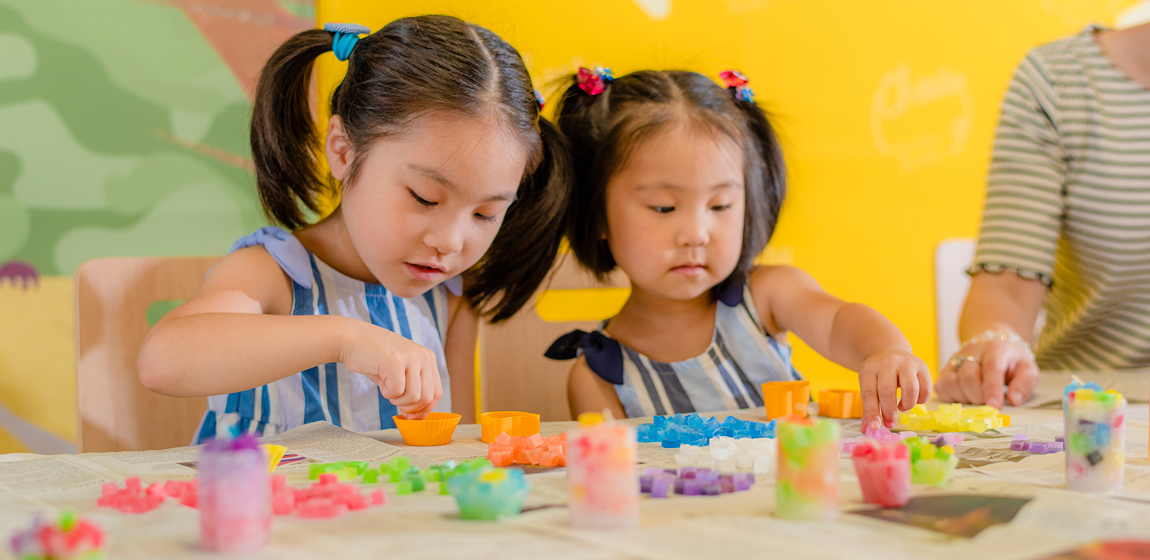 Indoor experiences can be enjoyed no matter what the weather, including easy cooking activities and craft making. There are many programs for both young children and adults to enjoy.
Stay for 2 consecutive nights to receive a free helicopter ride.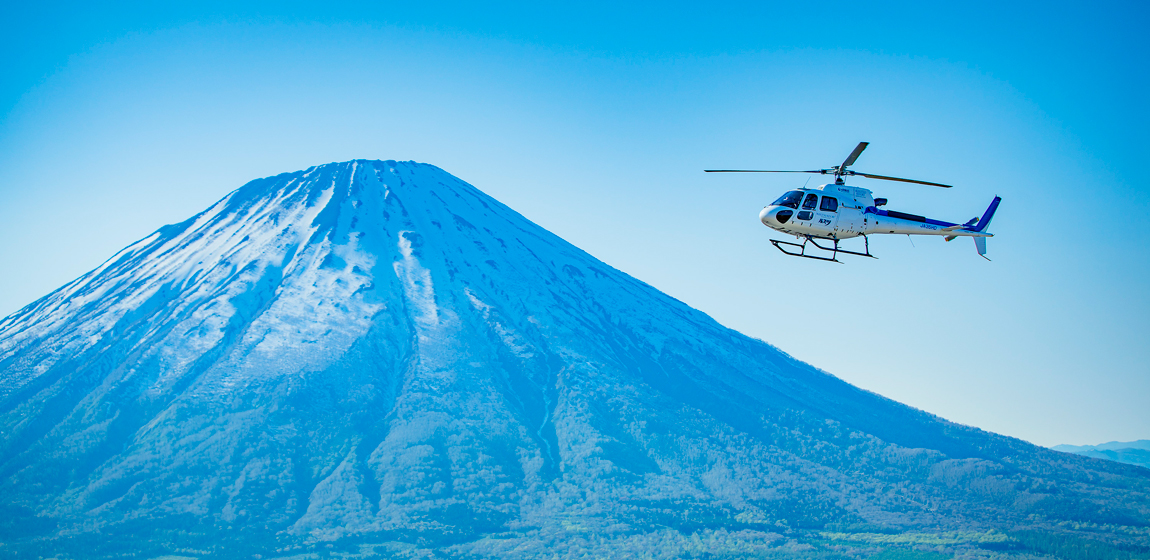 From July 1, 2020 (Wednesday) until October 25, 2020 (Sunday), guests staying for two consecutive nights or more can experience a complimentary helicopter tour. Normally, this activity is priced at 8,000 yen per person for guests over 3 years. All guests included on the booking can receive this reward. Even Infants can ride if they are accompanied by a parent or guardian. This means a group 5 people, can all receive a free helicopter ride worth 40,000JPY just by staying 2 consecutive nights!
Book now to experience an extraordinary scenic helicopter ride and take advantage of this fantastic limited time offer.
※Available on the first night of stay until Friday, October 23. Please note this does not apply for guests arriving from October 24th onwards.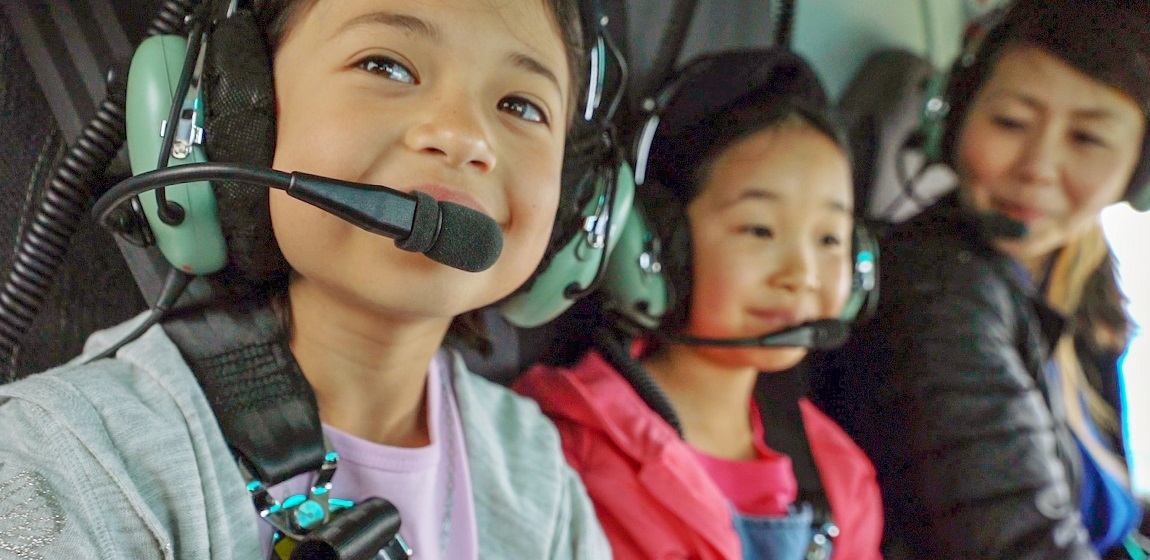 The scenery from the sky is amazing with kids feeling like pilots. Would you like to experience a helicopter tour with your family?
Please check below for more information about the helicopter tour experience. If you have any further inquiries, please feel free to contact us.
Have a wonderful night in Rusutsu Resort.
Rusutsu Resort has a range of fun attractions and activities available at night. The "Projection Mapping" and "Light Maze" are highly recommended for both children and adults.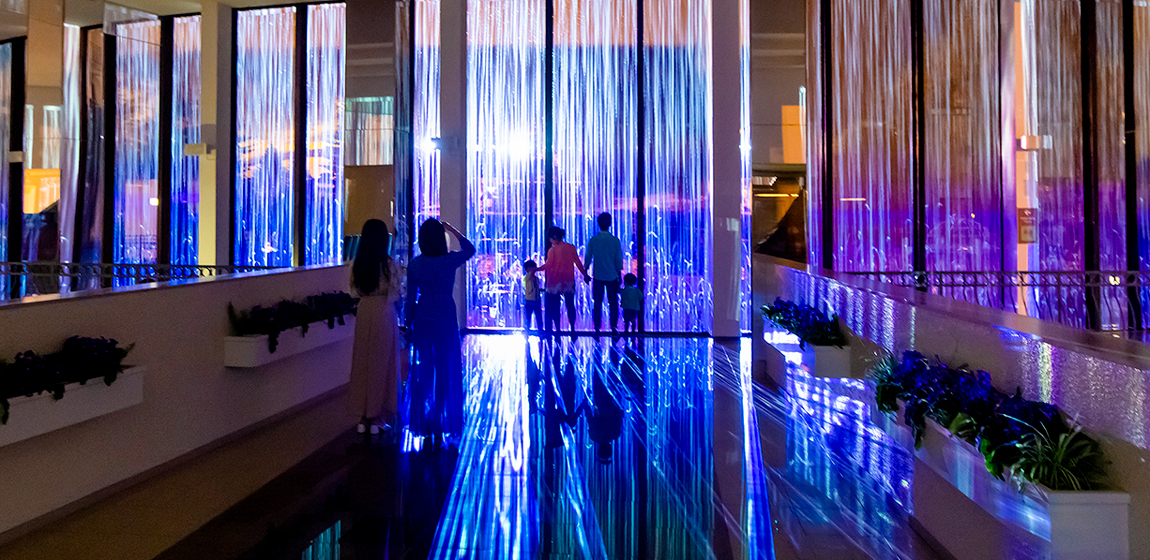 The Projection mapping show is available daily 8:00 to 8:30 p.m.
The story of the Ainu people is introduced with powerful images and sounds projected onto the walls of the hotel.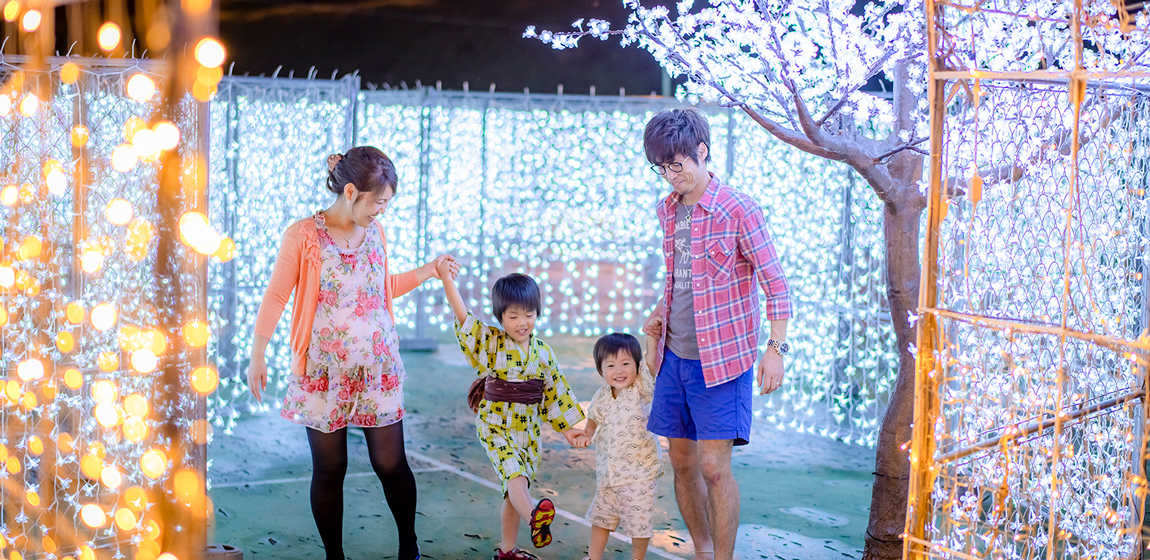 Before and after the Projection mapping show colourful images are projected to create a sense of wonder. Also the Light Maze is highly recommended. This giant maze features stunning illuminations in addition to sensory sounds and magical soap bubbles.
After a long day, relax and rejuvenate in the new hot spring facility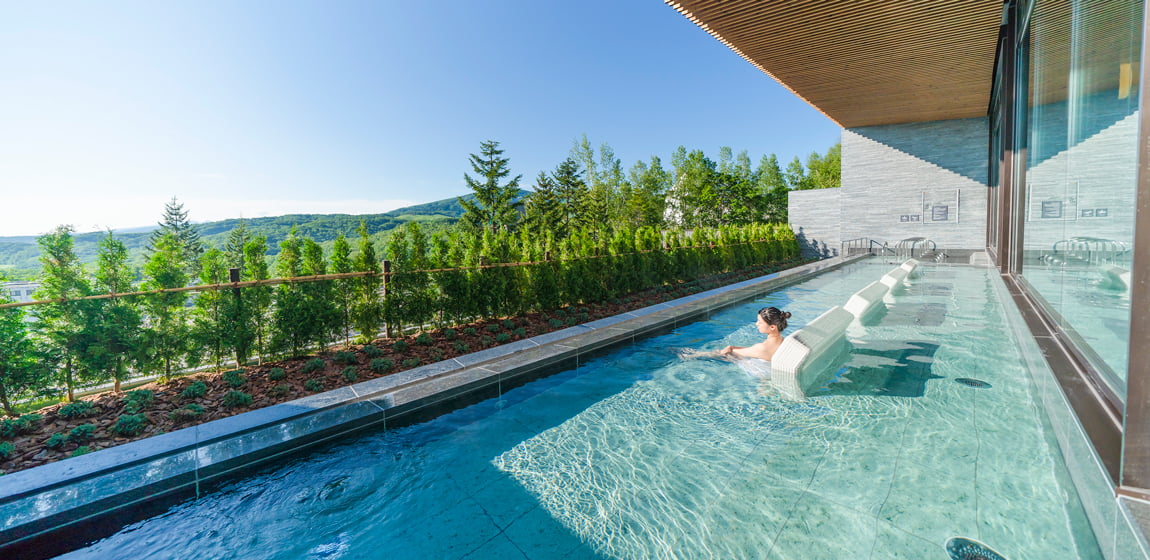 Recently opened in July 2019, the spacious hot spring facility features a range of indoor and open-air baths with sensual healing music designed relax and reinvigorate the body. Washing areas are individually segregated with some special washing larger for parents and children to use together. Special children's seats are also available for infants to increase convenience.
Experience a refreshing outdoor breakfast.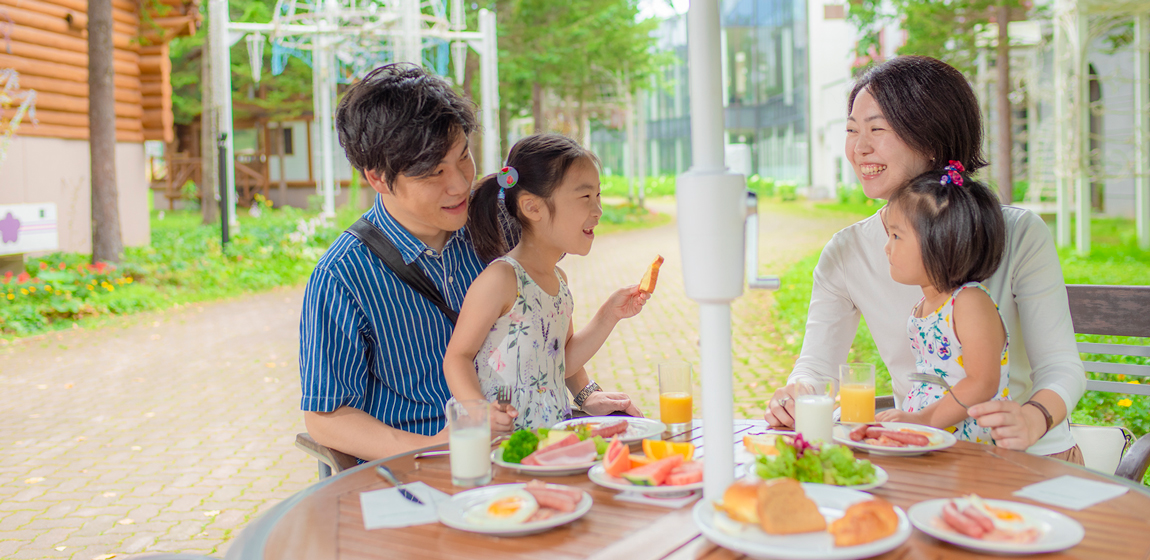 Available during the Summer Festival at Rusutsu Resort, guests can experience the mild Hokkaido summer eating outdoors surrounded by stunning greenery. Why not enjoy a refreshing open-air breakfast with the family this summer.

In addition to the hotel accommodation, the resort also features Log houses, cottages and campsite.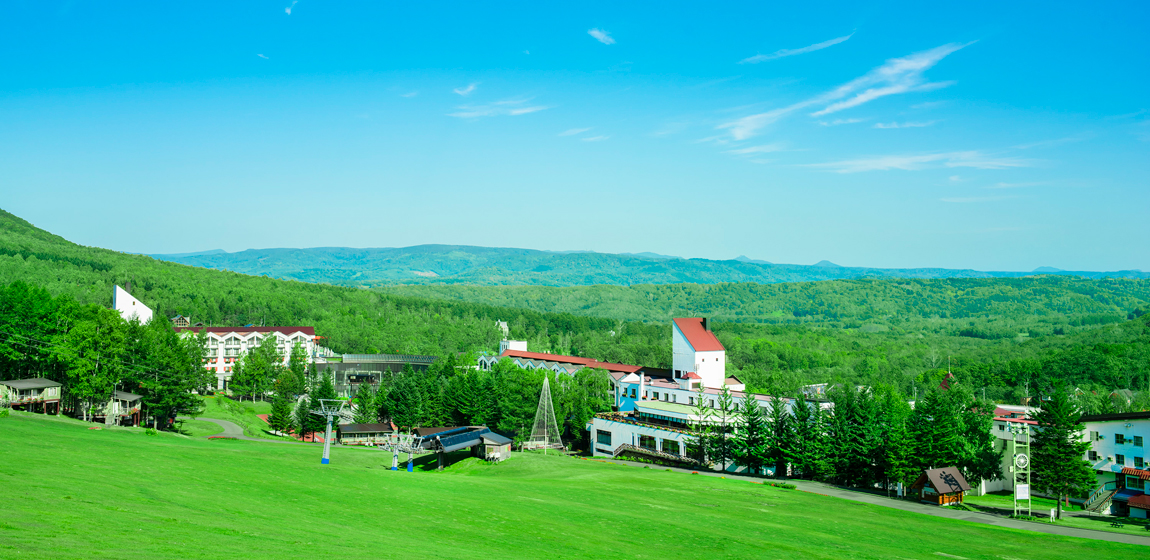 Rusutsu Resort has so many great attractions, activities, and events during the summer months the best way to experience everything is to visit for multiple days to "stay and play". The resort has two unique hotels, Rusutsu Resort Hotel and Convention and The Westin Rusutsu Resort. In addition to hotels, the resort also boasts spacious log houses, rustic cottages, and a campsite. Remember to stay at the accommodation for 2 or more nights to receive a free helicopter sightseeing tour for all guests this summer only.
*campsite guests not eligible for complimentary helicopter tour)
Take a family vacation to Rusutsu Resort this summer for an unrivaled experience. We look forward to welcoming you all.