24/02/2023
Skiing in Hokkaido in March, Enjoy the Fresh Meat and Overwintering Vegetable Food Festival in Rusutsu!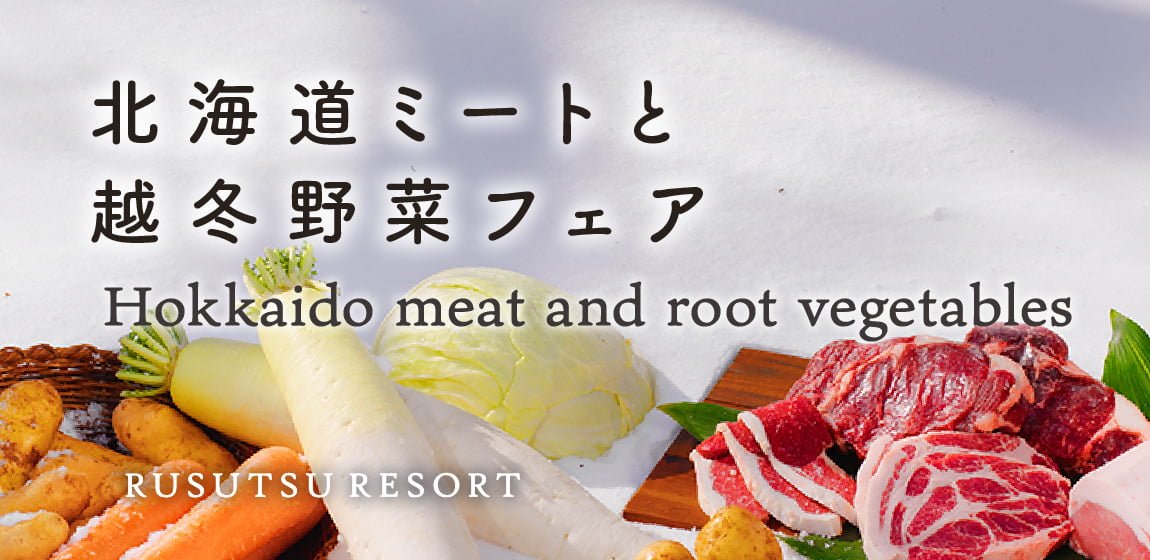 March, although it is the season of spring, but you can still enjoy skiing and snowboarding in Rusutsu. After skiing 37 trails on 3 snowy peaks, you must be hungry and eager to eat when you get back to your hotel! We are sure the Hokkaido Fresh Meat & Winterized Vegetables Festival in March will satisfy your après-ski appetite.
Vegetables harvested in the fall are stored for the winter under snow, in the ground, or in low-temperature refrigeration. It is said that their sweetness increases as they convert starch into sugar to accumulate in their cells and store nutrients so that they do not freeze in the cold. The sweet vegetables and Hokkaido meat, which can only be tasted during this season, are a perfect match for each other, and we are proud to offer a variety of dishes that can be enjoyed by vegetable lovers as well as those who are not so fond of them.
Period: 1/3/2023 (Wed) – 1/4/2023 (Sat)
Hokkaido Buffet Oktoberfest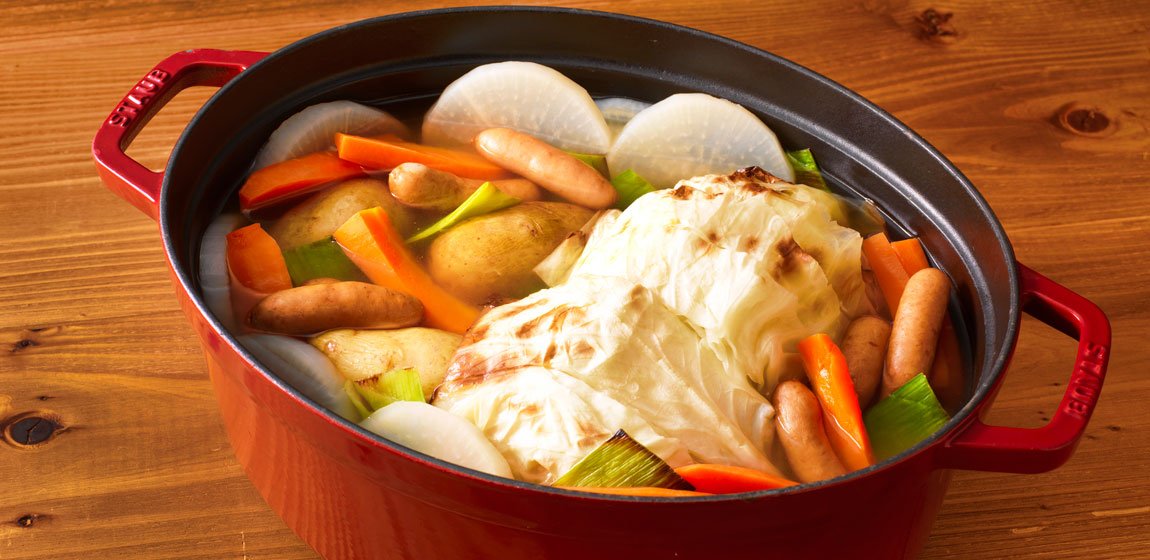 Pot-au-feu with winter vegetables
Rusutsu radish, Yotei potatoes, cabbage, carrots and sausage are simmered to give this pot-au-feu a delicious flavor and sweetness. Try it with mustard for a good balance of flavor, sweetness, sourness, and spiciness.
Stir-fried Rusutsu Pork and Overwintered Cabbage with Special Sweet Miso Sauce
The pork and cabbage are stir-fried together, and then topped with a special sweet soybean sauce. The meat and vegetables are well-balanced, and the taste is sure to make your meal go down a treat.
Oktoberfest
Rusutsu Resort North Wing 1F
Dinner Buffet at The Westin Rusutsu Resort's All-Day Dining Atrium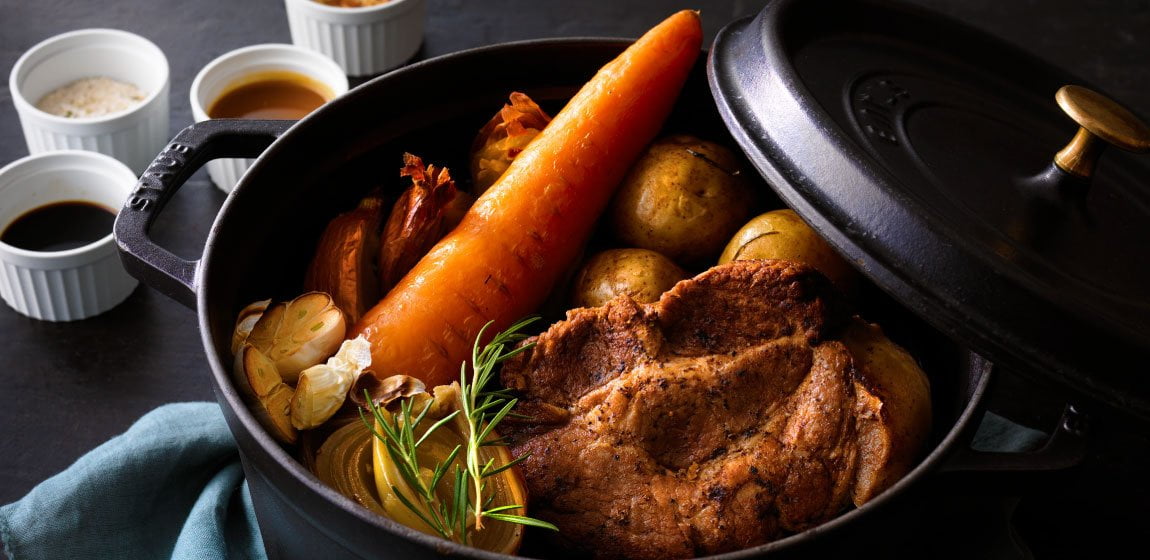 In addition to the regular menu, the All-Day Dining Atrium dinner menu features dishes made with four types of Hokkaido meat: beef, pork, chicken, and venison, available for a limited time only. Complementing the meats are Hokkaido's winter vegetables. Please enjoy the sweet and delicious root vegetables together.
The pot roast of Rusutsu pork and large-sized winter vegetables, slowly roasted in the oven, is a dish that allows you to enjoy the tender meat and the delicious flavor of root vegetables.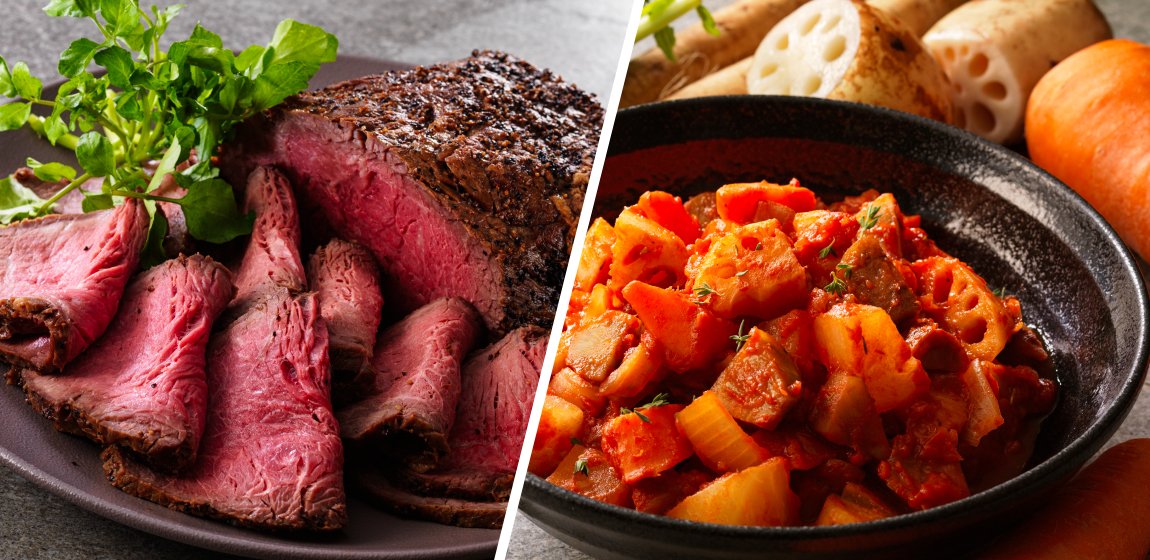 Roast beef from Hokkaido is also available only during this fair. Enjoy Hokkaido beef raised in the rich nature with herb salt or gravy sauce. Ratatouille, a delicious vegetable simmered dish, is made not with soft vegetables such as eggplant and zucchini, but with crispy root vegetables such as lotus root, burdock root, carrot, radish, and onion, which survive the cold winter in the northern land. Please enjoy a generous serving of Hokkaido vegetables.
All-Day Dining Atrium
The Westin Rusutsu Resort 1F
Pub Cricket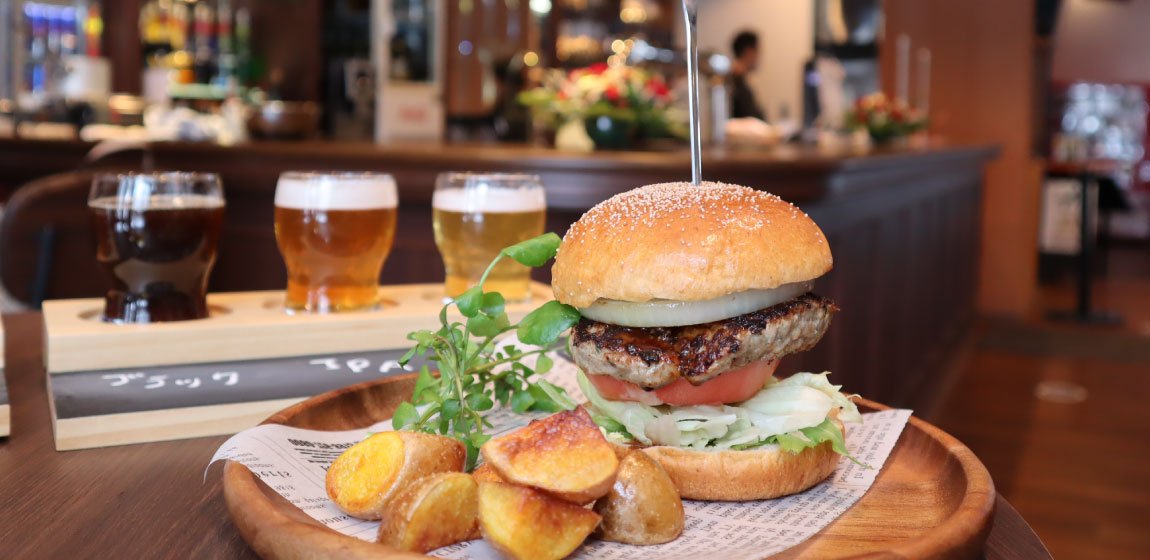 Cricket, with its open and casual atmosphere yet authentic dining experience, offers the Yotei lamp Burger, made with meat from sheep carefully raised on the company's own farm. The patty is made of 100% lamb meat, and the hotel-made bun is made of whole wheat flour. The burger has so little peculiarity that it is hard to tell it is lamb, and is easy to eat. The best thing about lamb is that it is healthy. If you are not a fan of lamb, this is a dish you should try.
Pub Cricket
Rusutsu Resort South Wing 1F
Izakaya Kakashi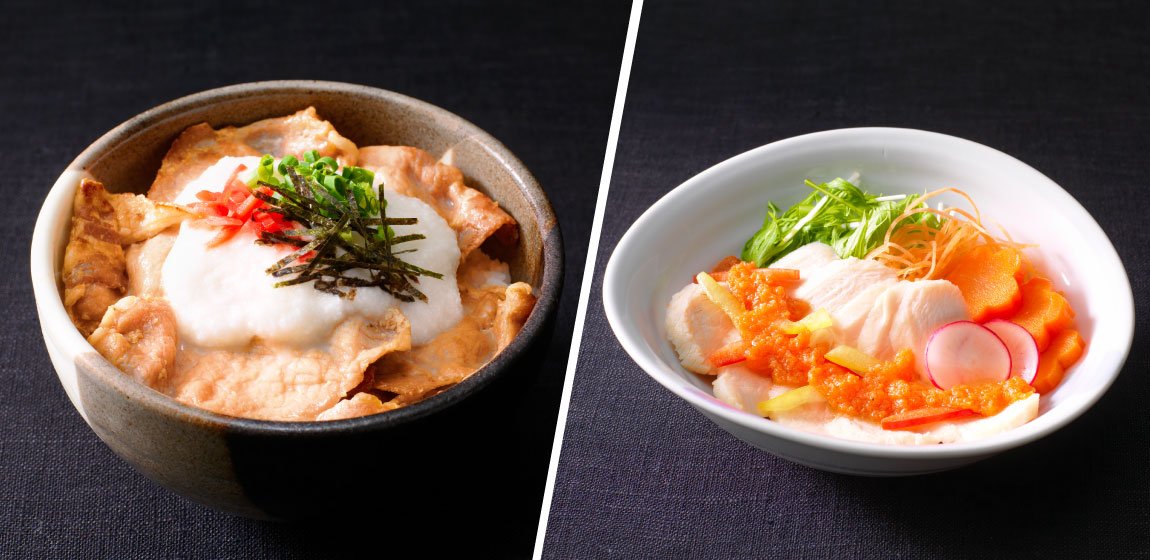 Rusutsu Pork Bowl with Tororo Grated Yam
This is a popular pork Bowl, made with Rusutsu pork raised at Nishihara Farm in Rusutsu Village, topped with grated yam harvested from Rusutsu, which has a strong sweet taste. The taste can be refreshed by adding a dash of ponzu (Japanese citrus juice), which is served separately. Tororo is effective in relieving fatigue and tonic, so eat well, sleep well, and move your body vigorously next day.
Steamed Chicken with Grated Winter Carrot Sauce
A luxurious dish of steamed salad chicken. Two grated sweety carrots, one raw and the other boiled, are topped to the chicken. The salad style chicken is healthy and easy to savour.
Izakaya Kakashi
Rusutsu Resort Highland Lodge 1F
Enjoy eating winter vegetables and meat together, which actually have amazing powers such as warming the body, stimulating digestion, and boosting the immune system, and enjoy a food + travel journey in Rusutsu Resort.