14/07/2023
Hokkaido Melon & Hokkaido Corn Fair to be held in August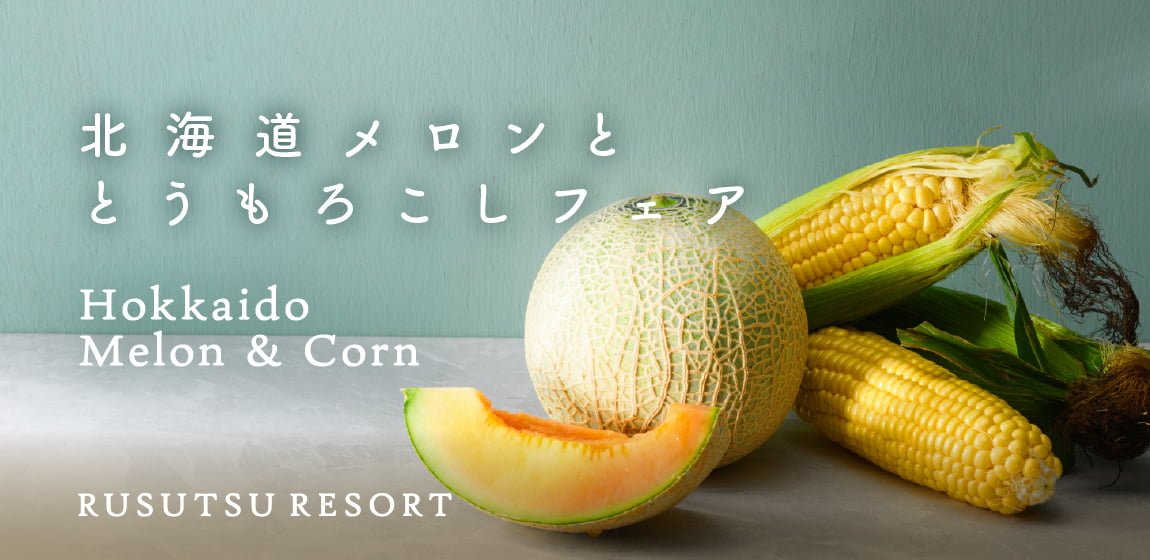 Hokkaido, the melon kingdom, boasts the second largest yield of melons in Japan. Many red-fleshed melons with bright orange are characterized by their strong sweetness and melt-in-your-mouth texture. They are rich in potassium, and the carotene content of the red flesh is outstanding among fruits. It is also effective in preventing summer fatigue, as its sugar content provides an immediate source of energy.
Hokkaido is also the number one producer of corn in Japan, accounting for more than 40% of the national share. Corn is high in insoluble dietary fiber, which regulates the intestinal environment and stimulates intestinal movement. Although the hot weather may reduce your appetite, we are sure that these seasonal fruits and vegetables will whet your appetite.
* Amusement park ticket or hotel stay is required for admission to Rusutsu Resort (The Westin Rusutsu Resort is available without amusement park admission or hotel stay).
Amusement park: various melon sweets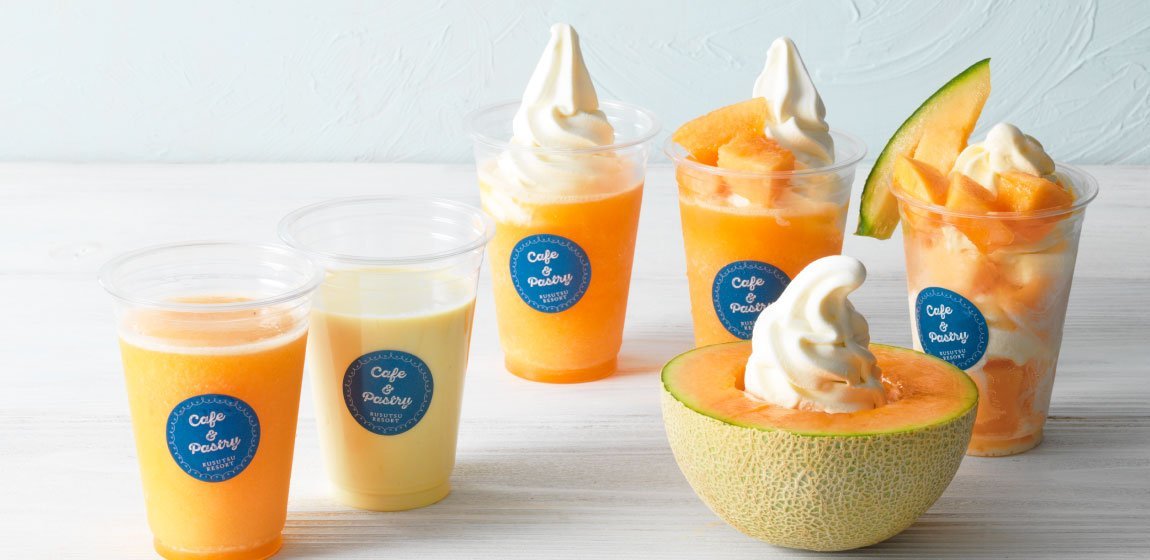 Bright orange flesh and juicy sweet melon juice. The lineup of melon sweets will make you happy from the moment you hold them in your hands. The most eye-catching is the melon soft-serve ice cream, which consists of half a melon topped with soft-serve ice cream. Other sweets available include melon parfait, melon smoothies, melon smoothie soft serve, etc.
Country House
Inside the amusement park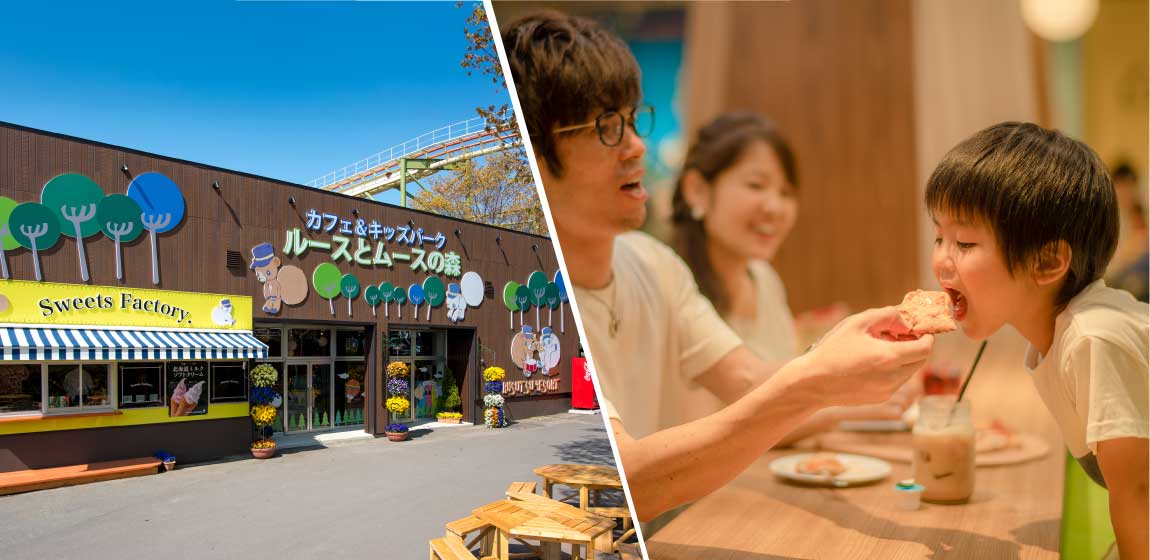 At the Ruth and Mousse Forest Cafe next to the merry-go-round, the "Plentiful Corn Pizza" made with Hokkaido corn is now available. This authentic pizza is baked to order. The cafe is air-conditioned, and cold drinks and sweets are available, so please come and cool off.。
Ruth & Moose Forest Café
Inside the amusement park
The Westin Rusutsu Resort: Melon Sweets Time at the Lounge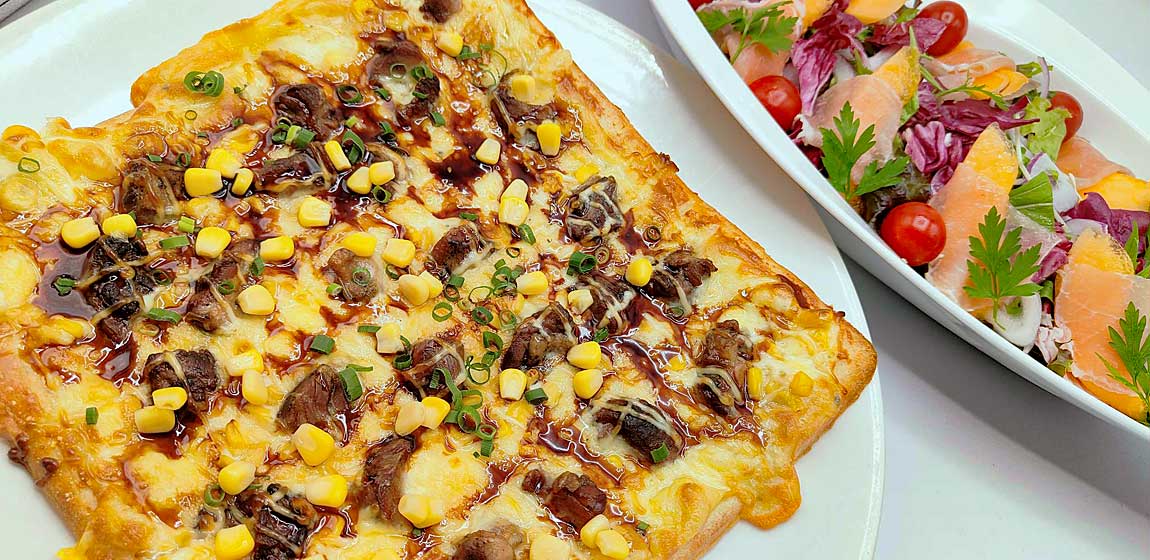 Enjoy a limited-time-only sweet treat made with plenty of melon at the restaurant "All-Day Dining Atrium", The Westin Rusutsu Resort Hotel. Particularly recommended is the "Afternoon Tea Set". The hotel-made melon sweets are served with tea from "Art of Tea," an organic tea brand from Los Angeles (14:00-17:00). In addition, a special melon parfait will be available in August (11:00-15:00). The tea jelly and sweet melon juice will be spread in your mouth.
Day-trip visitors are also welcome to drop by for dessert or lunch. Please feel free to stop by for dessert or just lunch.
The dinner buffet and breakfast buffet at the "All-Day Dining Atrium" also offer a wide variety of summer delicacies.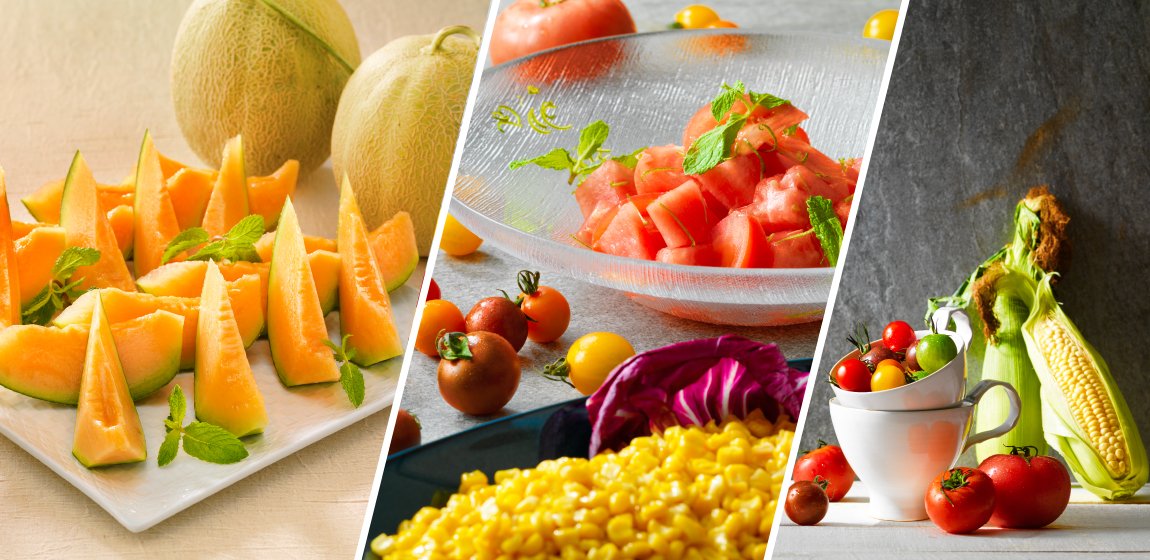 In addition, the dinner buffet offers sweet and lush "Yotei Melon" grown at the foot of Mt. Yotei. Please enjoy the melon sweets after your meal. Hokkaido corn, which comes into season in August, is also served at the dinner and breakfast buffets. Corn, one of the most popular Hokkaido ingredients, is prepared fresh from the fields. We hope you enjoy it.
All-Day Dining Atrium
The Westin Rusutsu Resort 1F
Oktoberfest : Melon dishes, All-you-can-eat at dinner Buffet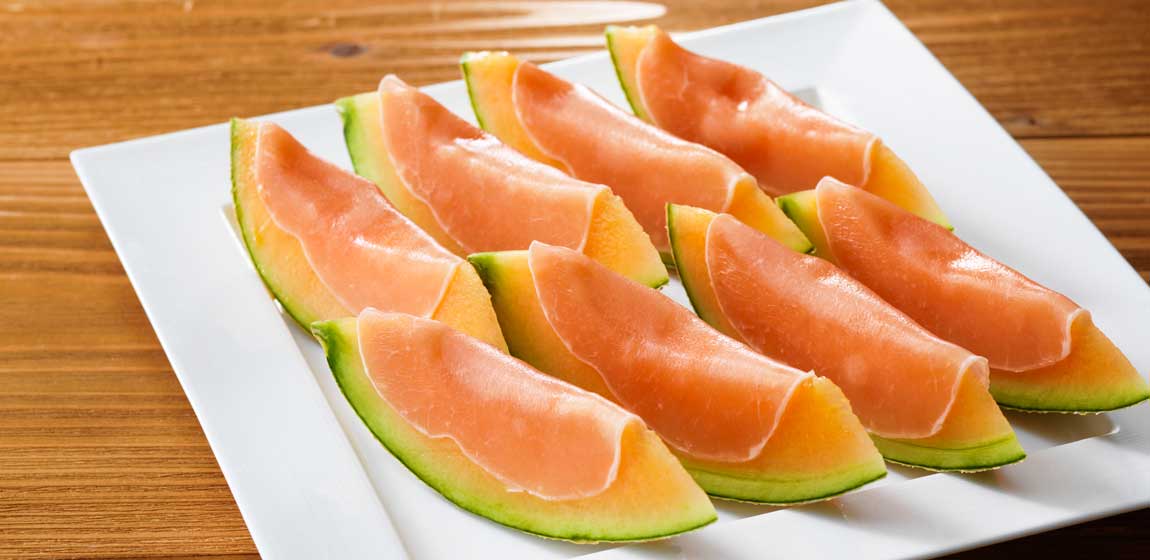 At the "Oktoberfest" buffet, which offers a wide variety of buffet dishes, Hokkaido melon will be served as an appetizer and dessert. The "Melon and Prosciutto Ham Salad" is a salad with melon and prosciutto ham, a classic dish for families with children who are not fond of vegetables. For dessert, you can enjoy all-you-can-eat melon grown locally!
Oktoberfest
Rusutsu Resort North Wing 1F
Izakaya Kakashi: Pickled melon only available for a short time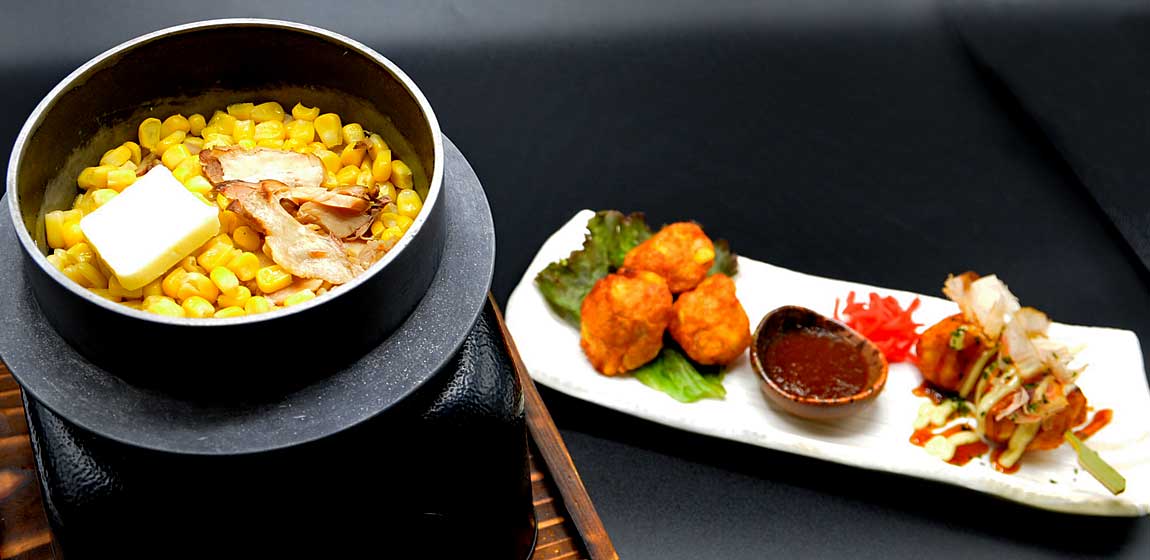 One melon bears two or three fruits, and the excess will be removed to ensure that a large fruit grows. The early picked melons are made into pickles. The fruity and crunchy texture, the aroma of sesame seeds and salted kelp make it a great snack for alcoholic beverages.
The Kakashi-style corn pizza, which is easy to eat for both adults and children, is made with corn, Rusutsu pork, Tokachi cheese, and summer vegetables (tomatoes, eggplant, and bell peppers), and served with Kakashi's original garlic mayo sauce. For dessert, we have prepared red flesh cut melon, which you can sample at the end of the meal.
Izakaya Kakashi
Rusutsu Resort Highland Lodge 1F
Café & Pastry: Take-out available!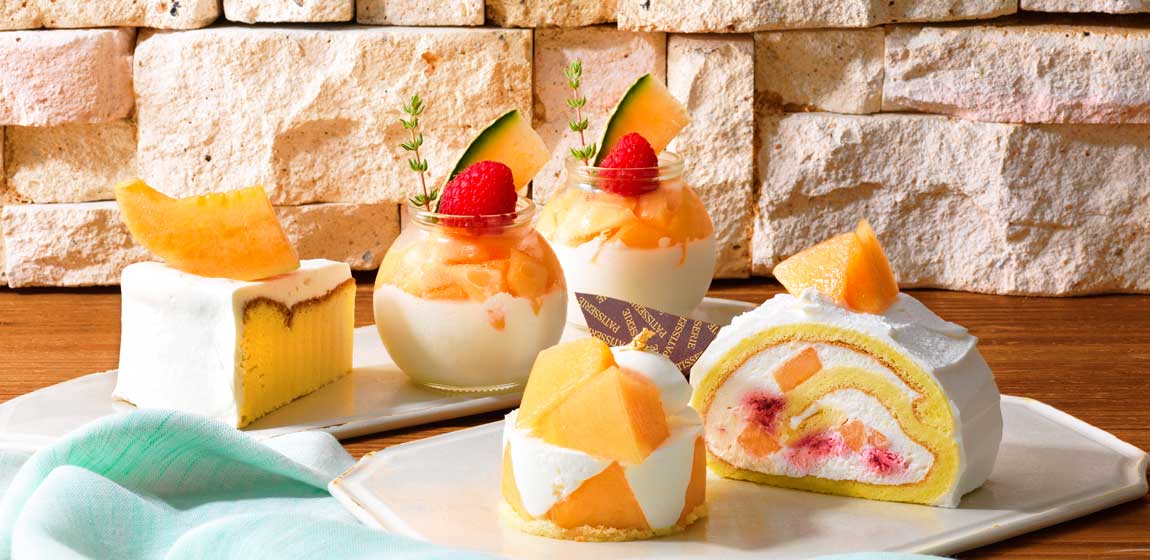 Cool melon sweets in a glass, fluffy chiffon dough, and melon buttercream roll cake, are time-limited sweets and will sell out very soon. Take a bite before going home, or buy them as a gift. How about "Cold Corn Soup" with it? The sweetness of the corn can be felt even stronger in the cold soup.
Daniel Street Cafe & Pastry
South Wing 1F
Pub Cricket : Cool down with a cool drink here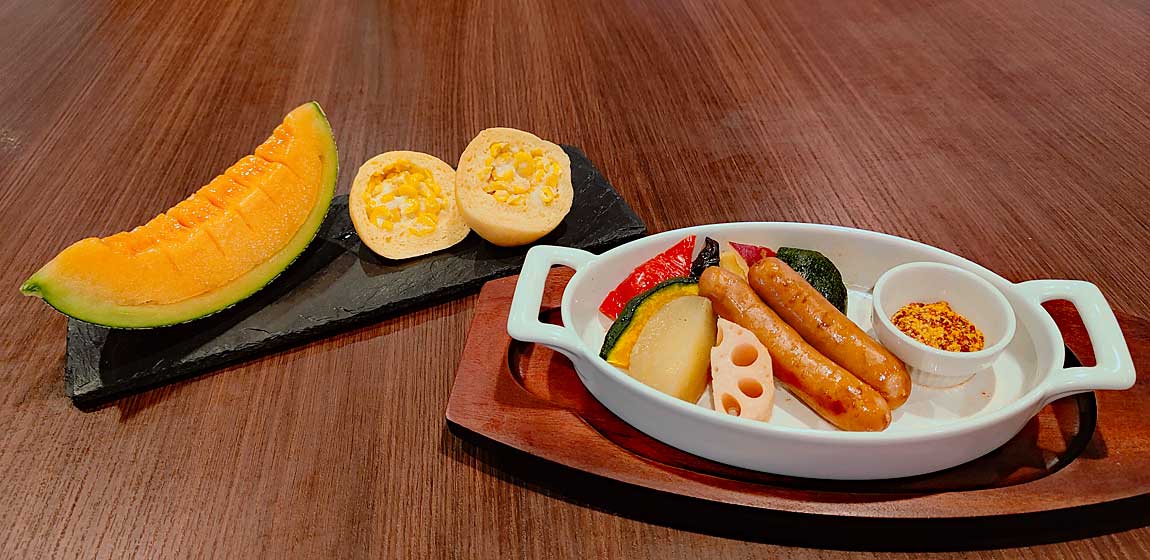 "Cricket" offers a lineup of Rusutsu craft beers, as well as cool drinks to beat the heat. Even those who don't like alcohol can enjoy a drink. The pub has an open space, so please feel free to visit.
Pub Cricket
Rusutsu Resort Hotel South Wing 1F
We have introduced the menus of seasonal delicacies. We hope you will enjoy your summer holiday at Rusutsu Resort.