Let our experienced guides help you safely discover Rusutsu's finest powder.
Our intimate local knowledge will ensure you find the best snow and terrain. Discover Rusutsu's best lift accessed powder zones and secret areas, located within the ski area.
Mountain GuidingAdvance Reservations
Program for experts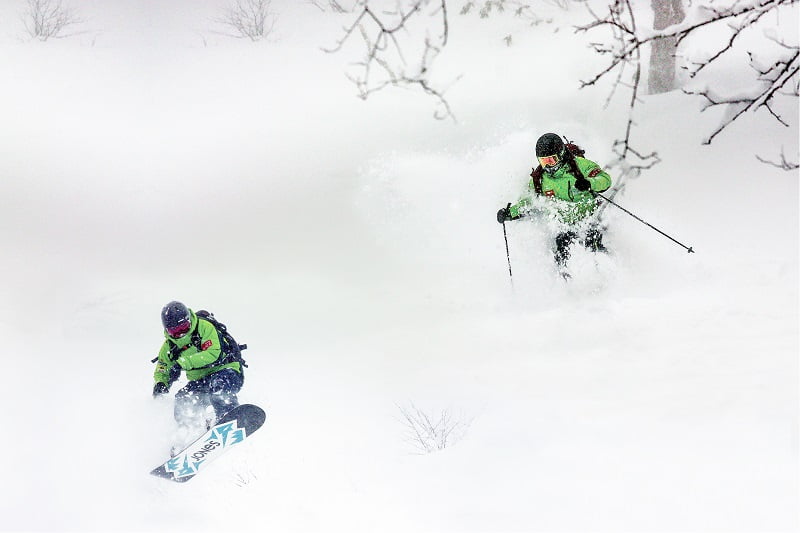 Session
Lesson times
Price (tax included)
3hours
9:30 - 12:30
13:30 - 16:30
60,800 JPY
4hours
9:00 - 13:00
71,500 JPY
5hours
10:00 - 16:00
82,300 JPY
6hours
9:00 - 16:00
93,000 JPY
Capacity

1 to 6 people
Remarks

・Price is per instructor.
・For groups of 7 people or more, please organize into multiple groups.
・The start time can be changed around 30 minutes.

How to book online >
RESERVATION
FAQ

Do you accept same-day bookings?

Yes. It's possible as long as there is a vacancy. Bookings are accepted until 30 minutes before the lesson, as long as the participants are fully prepared to start (clothing, rental, lift pass etc.).

Where do the guide take place?

Your guide will take you to the best lift accessed powder zones based on snow conditions and ability level.

Can I choose an instructor?

You can choose your instructor guiding. Please note that we may not necessarily be able to meet your request.

Can skiers and snowboarders join the same guiding group?

Yes, it is no problem to have skiers and snowboarders together providing all guests are a similar ability level.

Precautions

Mountain Guiding
Please note the following cancellation policy will apply to all bookings:
・Up to 30 days before your lesson (prior to payment): 0%
・Up to 7 days before your lesson: 10%
・Up to 72 hours before your lesson: 30%
・Within 72 hours before your lesson: 100%
*Cancellation policies will be enacted when there is a booking adjustment that results in an overall package price reduction.

・Please carefully read and sign the wavier prior to starting guiding.
・Skiers / Snowboarders are expected to be upper intermediate/advanced level.
・The guide will cater to the weakest member of the group for safety reasons.
・For guests who find guiding unsuitable for their ability level it is possible to switch to a regular lesson.
・All guests must be able to communicate in English and all guides will be native English-speaking.
・We recommend booking guiding several days in advance as the number of guides is limited.

Gear and equipment
・Participants will be required to wear a helmet.
・If you need to rent a helmet, please come to Salomon Station (rental desk) before the program begins.
・Helmet Rental fee: 3,500 JPY
*Please come to Salomon Station (rental desk).
Contact us
Rusutsu Resort International
Ski and Snowboard School
Operating Period 25/11/2023 - 31/03/2024
Reservation Desk Hours 8:00 - 17:00
Phone. +81-136-46-3526
Mail. school.en@rusutsu.co.jp
Ext. 7042 (From Rusutsu Resort Hotel & Convention)
Ext. 4-7042 (From The Westin Rusutsu Resort)