RUSUTSU RESORT NURSERY SCHOOL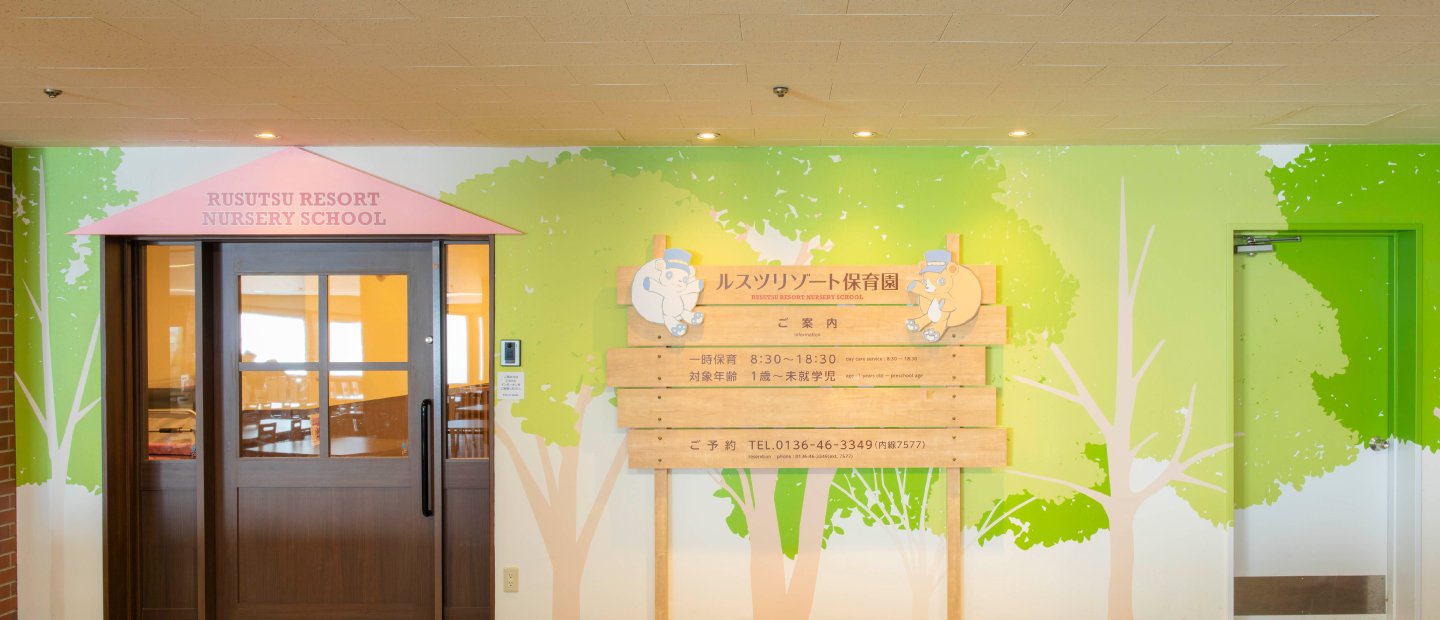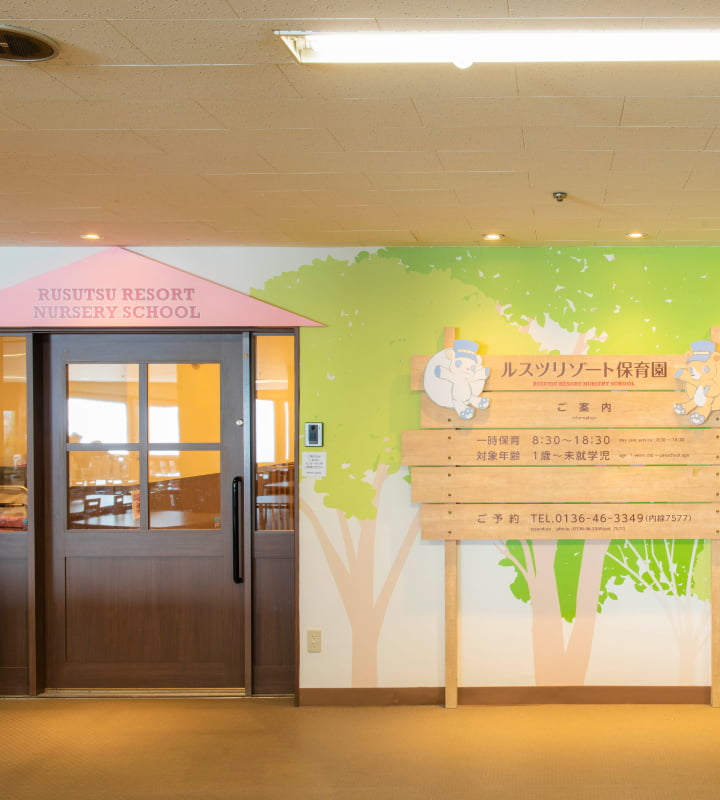 Run by a private company, our daycare center is open to visitors who need daycare services on a short-term basis.
When you're out skiing, golfing, doing activities, or have other things to do, you can leave your child at the nursery school on a per-hour basis. Our childcare specialists will take good care of your child in the bright space adorned with large windows.
A spacious and bright room with large windows

With all our nursery rooms featuring large windows, our daycare center commands a panoramic view of Hokkaido. Plus, our cushioned flooring absorbs the impact when kids fall over, preventing injuries.

Spend time with children of different ages from various countries

Fortunately located in the international resort, our daycare center accepts children of various nationalities and ages, helping them develop understanding attitudes towards different languages and perspectives through accepting and communicating with one another.

Nutritious home-cooked meals prepared every day

Our chef makes lunch using local ingredients at the in-house kitchen and will support from infant food. If the child has an allergy. Please contact us in advance.

Clean and safe bathroom for children

Always kept clean, our toilet seats are placed low enough for young children to use safely. The specially designed toilets enable our staff to help children in the middle of potty training.
Daily flow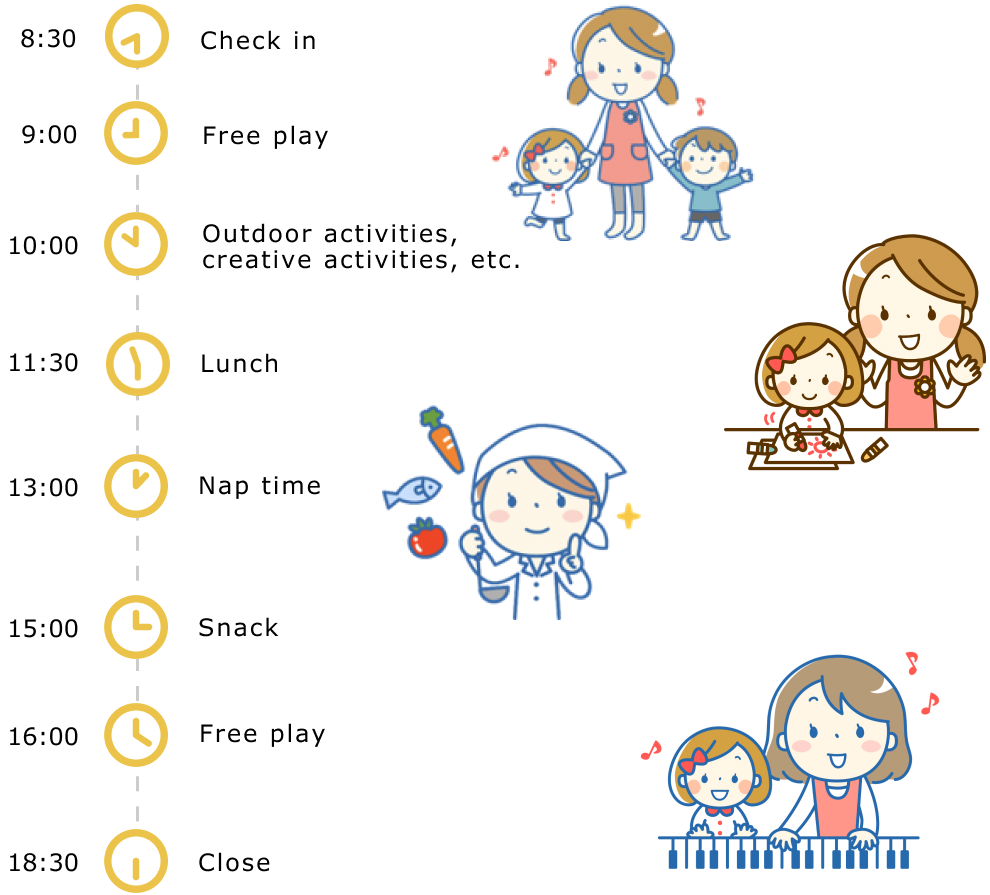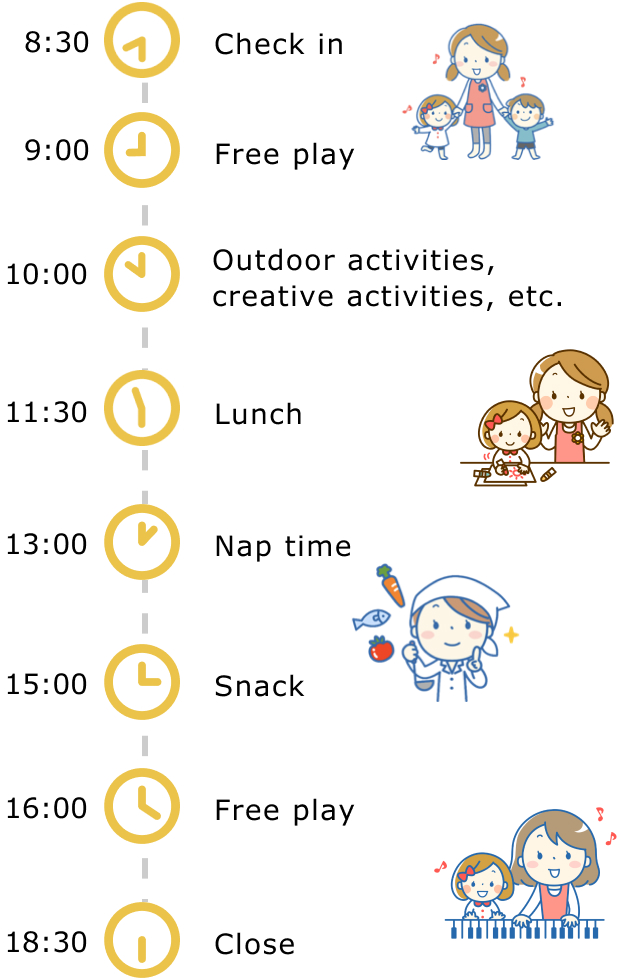 *The above schedule is an example. The schedule for infants varies on an individual basis.
General information about the daycare center

Operating company

Zipangu Business Co., Ltd.

Facility type

Privately operated daycare center

Location

Highland Lodge 2F

Opening and closing dates

29/04/2023(Sat.) – 22/10/2023(Sun.)
25/11/2023(Sat.) – 31/03/2024(Sun.)

Closed day

Every Tuesday

Suitable age

1-year-olds to pre-schoolers

Capacity

Up to 19 children
Fee

Childcare hours

8:30 – 18:30

Childcare fee

1 hour: 2,000 JPY

Lunch price

1 child: 1,300 JPY

Snack price

1 child: 250 JPY

Payment Method

Cash, room charge, credit card

Cancellation policy

Cancellation on the reserved day: 100% of the total amount will be charged Before 18:00 on the previous day: no cancellation fee will be charged
Remarks

・All the fees above are tax-free.
・The service is available on an hourly basis.
・Any pick-up arrival more than 5 minutes later than the designated time may result in an extension fee equivalent to the hourly charge.
・If the lunch time (11:30 – 13:00) and the snack time (15:00 – 16:00) fall within the child care hours, the prices for lunch (1,300 JPY) and snacks (250 JPY) will be charged in addition to the daycare fee.
・If your child has any allergies, illnesses or injuries, please bring it to our attention when booking.
・Please make sure you read the terms of service.
・If you have any concerns, please feel free to let us know.
Terms of Use
In order to provide a safe, secure childcare service and ensure peace of mind for parents and guardians. Please read this agreement and understand the associated terms and conditions before using this facility.
Paragraph 1 (General Rules)
1. This agreement applies to all temporary child care services (hereafter "the service") we offer at the Rusutsu Child Care Center (hereafter "the child care center")
Paragraph 2 (Qualifications for Use)
1. Target age: 1 year old – pre-schooler
2. Upon acknowledging this agreement, please complete the necessary items on the sign-up form and add a signature. Additionally, in case of emergency as established in Paragraph 3 number 6 of this agreement, you will be required to submit the insurance card or infant medical certificate of the child you are entrusting to us, and allow us to store a copy of it.
Paragraph 3 (Usage fee / Usage process)
1. Regarding the usage fee
・Temporary child care fee: 1 hour 2,000 JPY (excluding tax)
・Lunch fee: 1,300 JPY (excluding tax), Snack fee: 250 JPY (excluding tax)
2. Regarding the usage time
・Child care time: 8:30~18:30 (Lunch time 11:30~13:00)
・When use of the service includes any time between 11:30 and 13:00, the lunch fee will automatically be applied, and when it includes any time between 15:00 and 16:00, so will the snack fee.
・Please use the service for a minimum of one hour, in one hour increments.
・If you exceed the time of picking up your child by 5 minutes, the service and fee will automatically be extended by one hour. (Please make absolutely certain to pick up your child by the closing time of 18:30.)
・When there is a gap between finishing your child's application and the child care start time, please return at the start time or supervise your child at the child care center until the starting time.
3. Regarding Reservations
The service is completely on a reservation basis, please make a reservation at the latest by 18:00 on the day before the day of usage, by telephone or in person at the child care center.
In regard to changes of reservation time/date etc. Please be sure to contact us by 18:00 on the day before the day of usage.
Reservation time and starting time of child care begins from the child care center opening time of 8:30, and we can take reservations from that time owards (start times in 30 minute intervals) .
4. Regarding cancellations
Please contact us by 18:00 on the day before the scheduled day. Regarding cancellations after this point, a cancellation fee will be applied equal to the day care fee for the amount of reserved time. In cases of late start/early pick up of your child up, the fee for the entire reserved time will be applied.
5.Regarding Allergies
・For children with allergies, please inform staff of any allergies at the time of reservation. In cases where we cannot safely manage allergies based on their origin, severity or symptoms, we will ask children bring suitable meals or snacks. If the event of any allergy concerns, please feel free to bring suitable meals or snacks. Please understand that we cannot take responsibility for cases in which any symptoms appear due to ingredients or menu items which the child has not eaten before, or for cases in which you did not discuss allergies with us.
6.Regarding physical condition
・Please understand in advance that we may refuse service in cases in which the child has a fever, virus, infectious disease, or a sickness with the possibility of spreading, or in cases where they have prominent physical symptoms.
・For cases in which we judge the child's condition to require medical care, we will contact the guardian immediately and ask you to pick them up. Please understand in advance in the event we cannot get in contact with the guardian bute judge that emergency medical care is required, will contact a emergency services/medical institution.
・We cannot provide child care for children with disabilities.
・We do not provide medical care, so we cannot be put in charge of medicine or accept requests to administer it.
Paragraph 4 (Refusal of Services)
1. If any of the following applies, we shall revoke the right to use the service without notification. Procedure based on staff judgment.
1) Cases in which this agreement is breached.
2) Proven cases where miss-information is presented at the time of application.
3) Cases in which the honour and trust of this company are damaged.
4) Cases in which there is no fee payment and non-compliance issues.
In the event of refusal of services based on the above reasons, the company will bear absolutely no responsibility.
Paragraph 5 (Methods of Paying the Usage Fee)
1. You can pay the fee on the day of use when you pick up your child, at the child care center, or you can charge the fee to your room.
2. In cases of cancellation after 18:00 on the day before the usage reservation, you can pay the cancellation fee at the child care center, or have it charged to your room. In cases when lodging is cancelled as well, we will the fees separately.
3. In cases when we cannot confirm payment of the usage fee, our service will be stopped or suspended.
Paragraph 6 (Compensation Liability)
In regard to damage of goods or injury to children in our care due to bad faith or errors by the company/employees, compensation will be paid. However, for injuries which occur due to unavoidable accidents, which are not the fault of the company or employees, the company will not bear the responsibilities for damages.
Paragraph 7 (Management of Valuables)
1. Regarding valuables or cash, we ask you in advance to please keep them with you at all times. The company cannot take responsibility for lost or damage.
2. Regarding goods entrusted to our care during the time of usage, please write your name on all items. We cannot bear responsibility for the loss of goods without names on them.
Paragraph 8 (Personal Information)
1. Regarding the management of customers' personal information, we adhere to laws and ordinances, and for the purpose of offering this service, we obtain or use the following information.
1) The full name of the child put into our care as well as the full name of the guardian who will come to pick them up.
2) The phone number where we can reach the guardian.
3) The name of your lodging/accommodation.
4) Information about the child's state of health, such as chronic diseases and allergies.
5) Passport number (in the case of international customers)
6) A record of the insurance card or infant medical certificate of the child you are entrusting to us.
7) Credit card information (used only at the time of payment for those who pay via credit card)

2. We will appropriately manage the acquired personal information (listed above) , and will not provide information to third parties without obtaining prior consent. However, in certain circumstances will supply the acquired personal information to third parties, we receive your advanced consent to supply in the below cases.
1) Cases based on laws and ordinances.
2) Cases in which it is necessary in order to protect a person's life, body, or property.
3) Cases in which it is necessary for the health of children.
4) Cases in which it is necessary to cooperate with the execution of administrative duties established by laws and ordinances, performed by an agency of the national government or local public body, or a person commissioned by them.

3. The period that our company retains personal data conforms to the necessity of our business operations and legal requirements. We retain personal data throughout the period necessary for the purpose of management of acquired information, as well as other purposes permitted in relation to that. When the personal data becomes unnecessary, it is made irreversibly anonymous (there are cases in which the anonymous data is retained and used) , or the data is completely destroyed.
Paragraph 9 (Applicable Laws and Trial Jurisdiction)
1. Regarding the management of customers' personal information, we adhere to laws and ordinances, and for the purpose of offering this service, we obtain or use the following information.
Application
Advance Reservations
Rusutsu Resort Nursery School
Reception Hours 8:30 – 18:00
Closed Day Every Tuesday
Phone. +81-136-46-3349
7577 (From Rusutsu Resort Hotel & Convention)