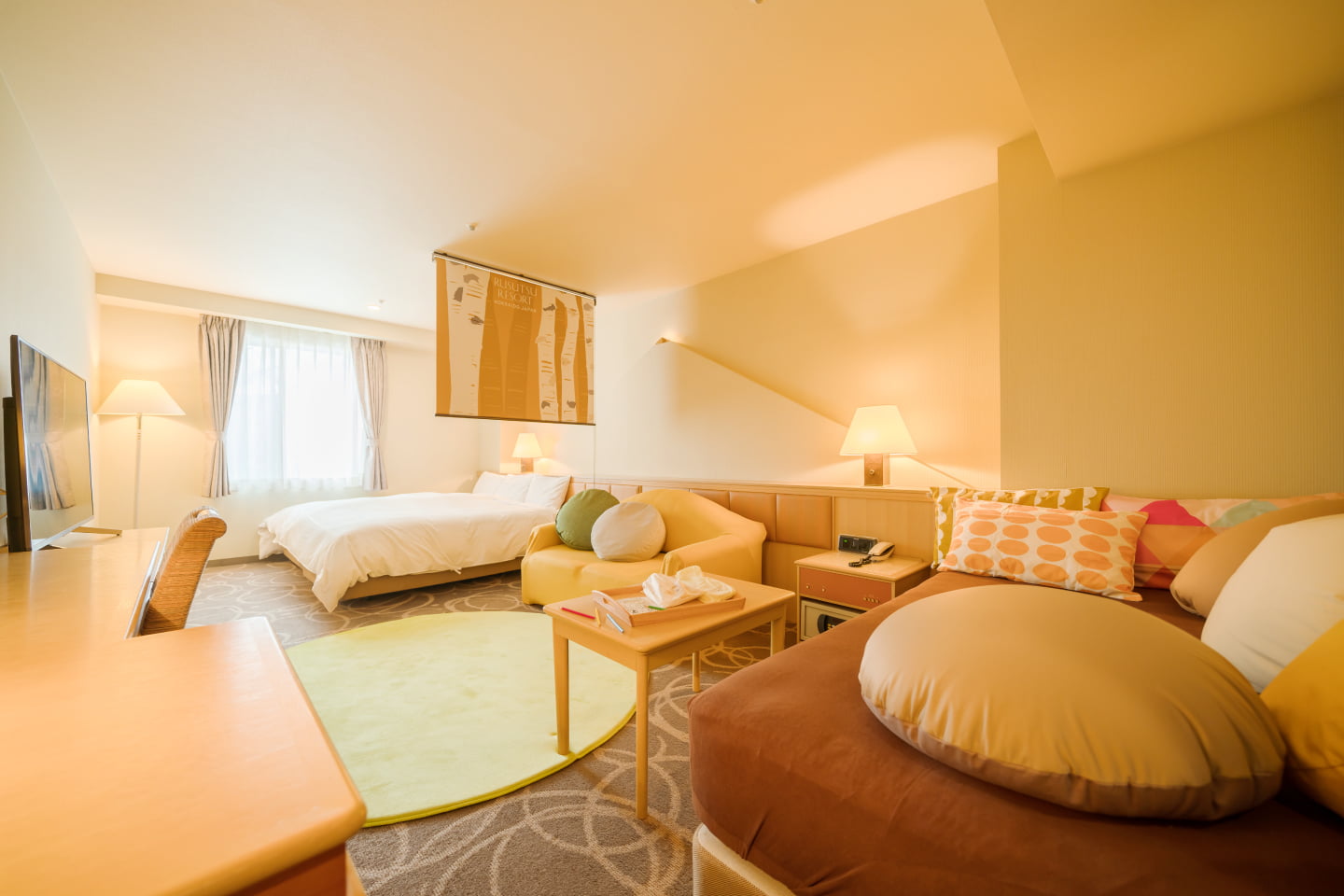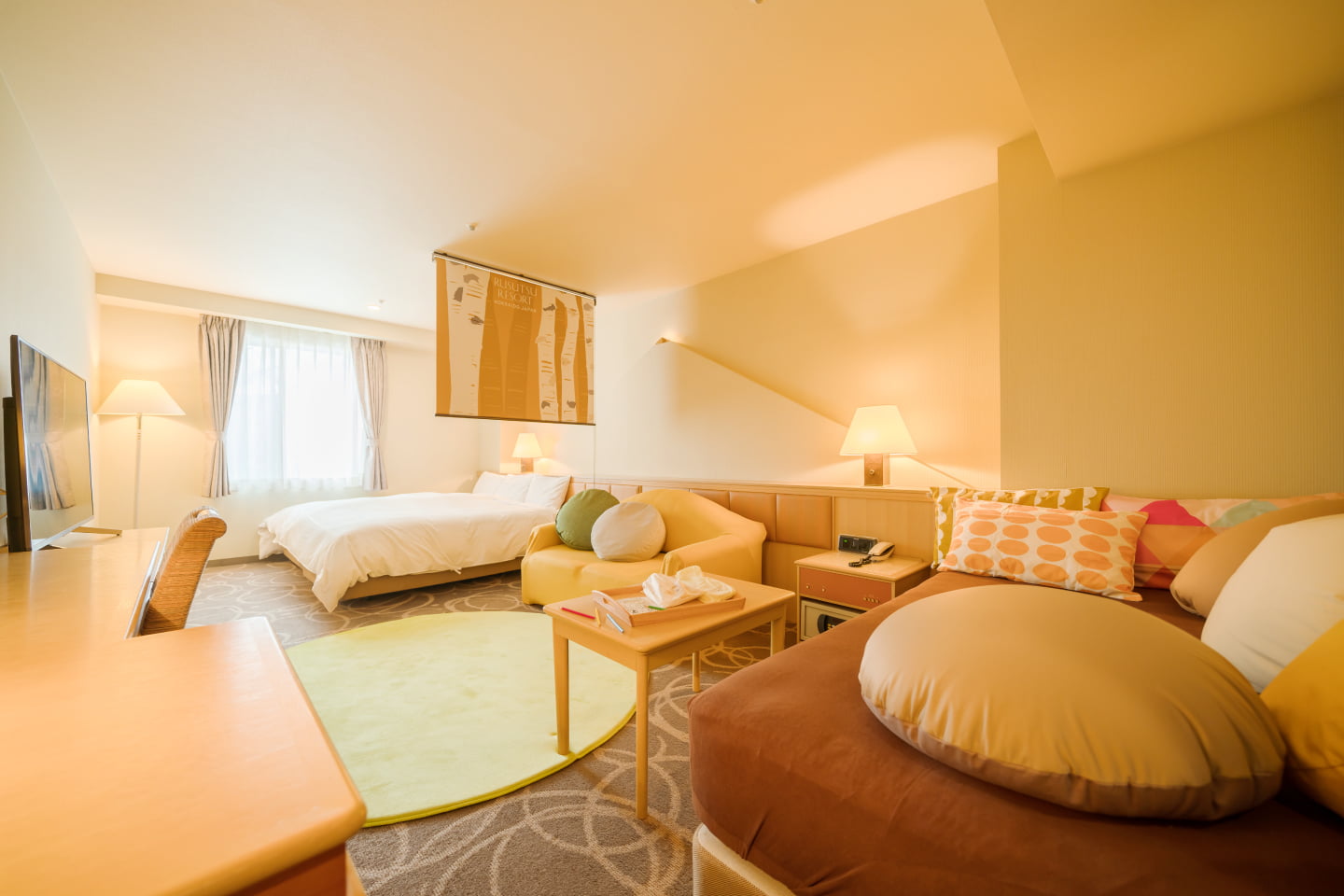 Kids Friendly Rooms
Maximum Occupancy: 3 people Number of Rooms: 5Rooms
A Kids friendly room with a special wide king bed which is ideal for sleeping together with young children.
Western-style room with a capacity of 3 people (33 m2). A wide king bed is placed against the back wall of the room, with a sofa and single bed placed next to the bed. This room design promotes family time, such as a comfy rug where children can spend time with their shoes off. Please note, only 5 rooms per night available.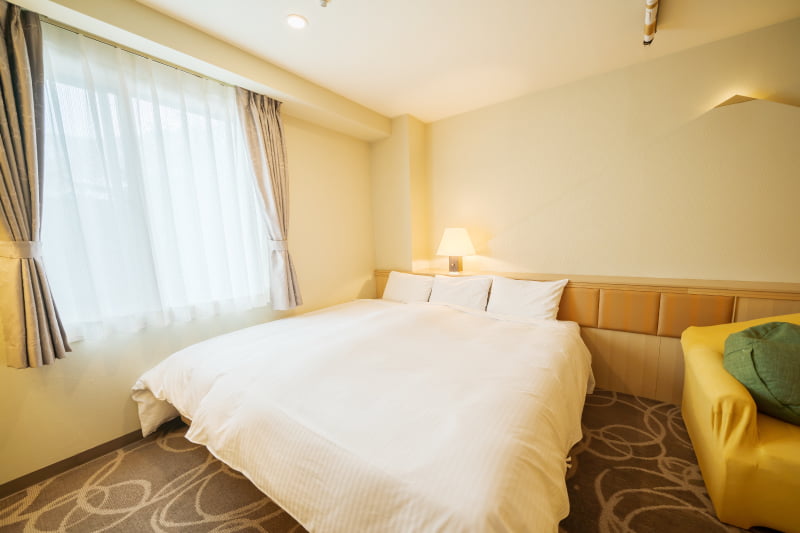 Two wide single beds connected to make a large king bed
The bed width is spacious 210 cm, this allows two adults and children to sleep peacefully together. The bed is located against the back wall and left wall of the room, allowing families a restful nights sleep, two single sized duvets are provided for added comfort.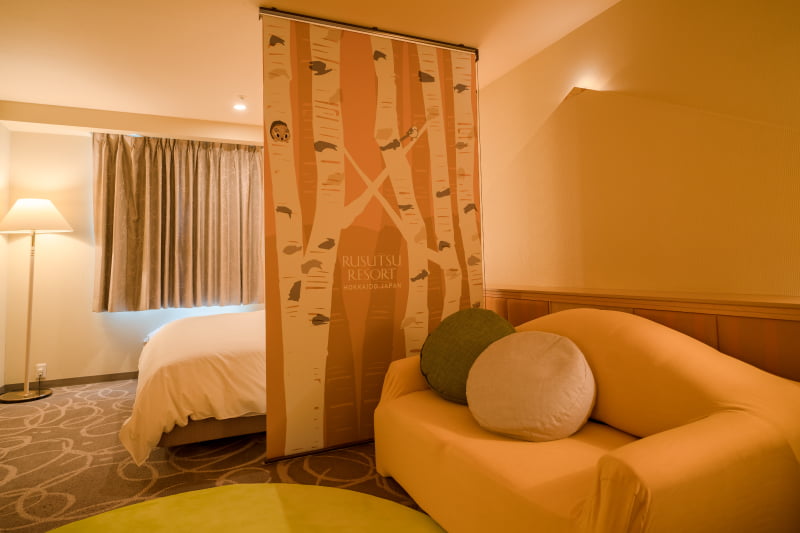 A roll blind screen with a charming Hokkaido Forest design is located next to the bed.
Once children go to bed this special roll blind can be lowered to prevent lights in the room for disturbing the sleeping children. This feature is useful for families with different bed times and helpful for parents chatting late night or working in the early morning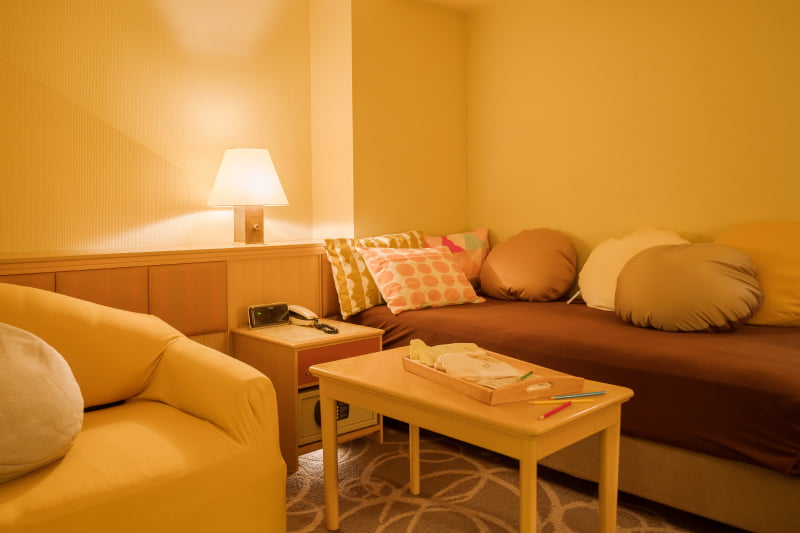 An additional single bed can also be used as a sofa.
For families of two adults and pre-school children sleeping together in one large bed, an additional single bed can be provided to be used as a convenient sofa. This is ideal for families who wish to relax on the sofa. Elementary aged children can also use this as a bed if staying in the same room. Please contact the General Reservation centre for more information.
Facilities

Bath (Tub)
Toilet (With warm-water Bidet)
Bed
Cold Storage
Phone
TV
Safe
Electric Kettle
Hair Dryer
Air Purifier/Humidifier
Wireless LAN (Wi-Fi)
Hangers
Cloth Brush

Room Type

Maximum Occupancy

3 people
Amenities

Tea
Glasses
Bottle Opener
Bath Towels
Face Towels
Bath Mat
Shampoo
Conditioner
Body Wash
Facial Soap
Toothbrushes
Hairband
Shower Cap
Hair Brush
Razor
Cotton
Cotton Swabs
Slippers
Resort Wear
Laundry Bag
Notepad/Ballpoint Pen
Deodorizing Spray

Room Service

Non
Remarks

・Children's amenities are available. We offer a special nappy bin, children's toilet seat, children's coloring sets especially for this room type. Please enjoy these amenities.
・Please do not wear the slippers or resort wear outside the building or when you go to The Westin Rusutsu Resort (please wear them only inside the building, such as in the restaurant).