Log House
Maximum Occupancy: 24 people
1 log house can accommodate up to 24 guests. Log houses are recommended for large groups who want to stay together, or guests looking something more private.
The log houses come in 4 types, each accommodating up to 6, 8, 18, and 24. The minimum number of guests for a log house is 4. Feel closer to nature in the healing atmosphere created by the warmth of the wood and the brick fireplace. To dine or take a hot-spring bath, please visit the hotel facilities.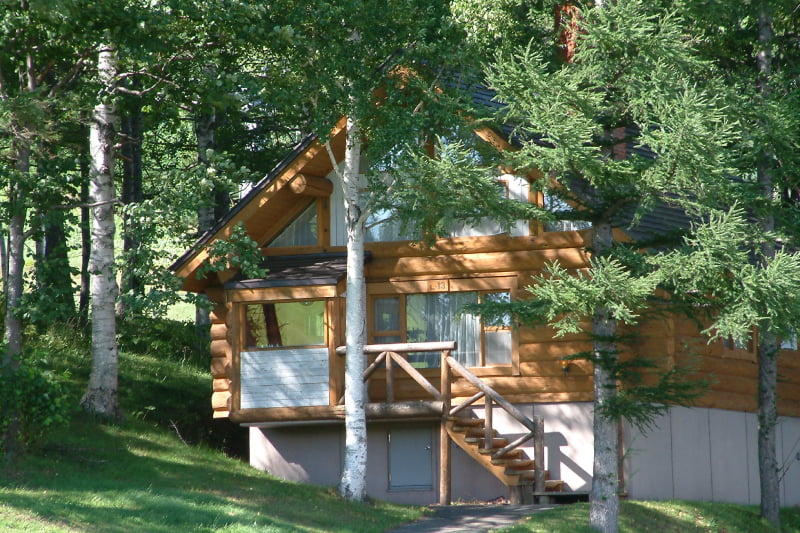 A log house, perched up on the slope. Have an extraordinary stay in a room with a cozy fireplace
Set apart from the other facilities on the resort's grounds, the log houses differ in number of rooms, maximum capacity, and interior. The houses are a great way for families and groups to spend time together, and the largest house sleeps up to 24 people.
Guests can use the facilities inside the hotel
The restaurants, outdoor hot-spring bath, and large public bath in Rusutsu Resort Hotel & Convention are yours to use during your stay.
Facilities

Bath (Tub)
Toilet (With warm-water Bidet)
Bed
Cold Storage
Phone
TV
Safe
Electric Kettle
Hair Dryer
Hangers
Cloth Brush
Fireplace

Room Type

Maximum Occupancy

24 people
Amenities

Japanese Tea
Glasses
Teacups
Bottle Opener
Bath Towels
Face Towels
Bath Mat
Shampoo
Conditioner
Body Wash
Facial Soap
Toothbrushes
Hairband
Shower Cap
Hair Brush
Razor
Cotton
Cotton Swabs
Slippers
Resort Wear
Laundry Bag
Notepad/Ballpoint Pen
Deodorizing Spray

Room Service

Non
Remarks

・Please do not wear the slippers or resort wear outside the building or when you go to The Westin Rusutsu Resort (please wear them only inside the building, such as in the restaurant).
・Cooking equipment (stove, microwave, etc.) is not provided in the log houses. For dining, please use the hotel's restaurants or shops.

*We do not allow use of open flames, such as a stove, inside the room in accordance with the Fire Service Act.
*Also, we do not allow use of open flames, such as a barbecue, around the building.
*The log houses are not directly connected to the hotel buildings. To use the hotel's facilities, such as the large public baths or restaurants, you will need to leave your log house and walk across to the hotel.